In line with our BU2025 action to enhance our position as a sustainable organisation and manage the environmental impact of our actions, we are pleased to announce the new Bournemouth University Travel Plan and our Sustainable Travel Plan launch event.
The plan covers the period 2019-2025 and will support students, staff and visitors to make more sustainable travel choices when travelling to campus. The plan will also seek to reduce the impact of BU's travel and transport activity by reducing our local environmental impact and our contribution to global climate change.
Vice-Chancellor Professor John Vinney acknowledged the importance of BU's role in providing sustainable, environmentally friendly travel choices and how we can all have an input into this. "I encourage all staff and students to engage with the BU Travel Plan and really embrace the shared responsibility we have for the environment, both locally and globally."
A summary of the BU Travel Plan 2019-2025 is now available online and provides an overview of:
- What the plan aims to achieve (objectives and targets)
- How the Travel Plan will be delivered (action plan)
- How we will know if the plan has been successful (monitoring)
- Management of the plan
You can also view a full version of the Travel Plan.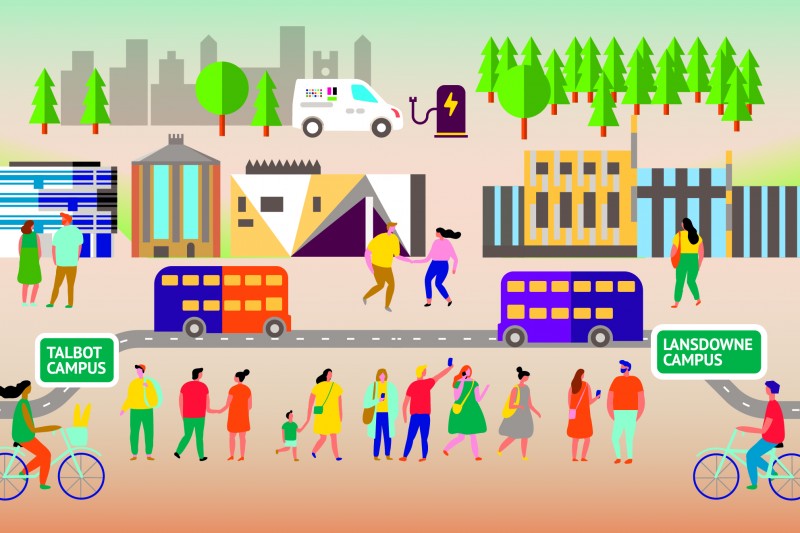 Travel Plan launch event
To launch the new Travel Plan, a sustainable travel event is being held on our Talbot Campus, University Street on Wednesday 9 October, from 10am to 2pm. A number of travel exhibitors will be at the event including:
Cycle related:
Buses
Come along and visit our bus partners to find out about fantastic bus offers:
Lift share
BU Travel and Transport team will be running a BU lift share information stand, so come along and find out how to find a lift share buddy, to save money and carbon on your commute to campus. The team will also be able to help with any other BU travel related queries that you may have.
Lansdowne Campus travel stand – Friday 11 October
As part of the SUBU Green Day, the BU Travel and Transport team will be holding  a Travel Plan information stand in the Studland House café from 10am to 2pm. Students and staff can drop in to find out more about the Travel Plan measures and incentives available to them.
If you would like more information about the new Travel Plan, please contact the Travel Plan Group.