Bournemouth University has marked entering its seventh year of partnership with Premier League Football Club AFC Bournemouth with a visit to watch the girls' teams train.
BU is the main supporter for the girls under 10s, 12s, 14s, and 16s teams, as a part of their partnership with The Cherries and from this year is also supporting the girls' development football through the Girls and Women's Programme. The university is the official Higher Education partner of the club with staff undertaking a variety of education and research initiatives.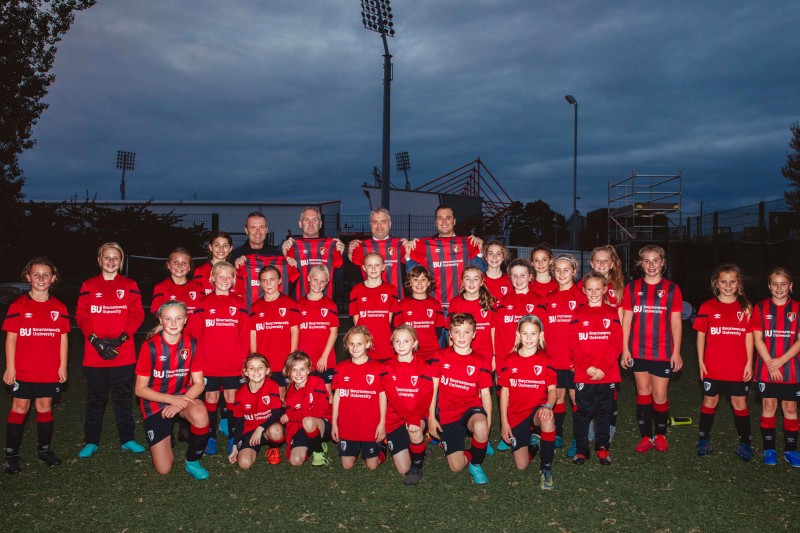 The partnership's tenure includes a range of community and footballing activity taking place to the benefit of staff, students, Cherries fans and the local community.
AFC Bournemouth coaches support BU's men's and women's football teams for Premier League training and coaching, while students also benefit from working closely with the club, with students from the university's student magazines attending games in the press box to get hands on experience.
The university is also afforded player appearances this season, with Dutch international Nathan Ake already heading to BU's Talbot Campus to welcome new international students to the UK.  AFC Bournemouth Chairman Jeff Mostyn is a BU honorary doctorate recipient and works closely with the university to ensure students also feel welcome to their new home.  Both were included in videos welcoming students at Bournemouth University's annual International Commencement Ceremony.
Jim Andrews, Chief Operating Officer at Bournemouth University, said, "We're so proud to support our local football team as they play on one of the biggest stages of world football, and we're continually impressed by their work off the pitch, in the community, as well as their performances on the pitch. This partnership brings two of Dorset's biggest organisations together and we're delighted that our support can extend to benefit fans and the Cherries girls' teams, as well as our own BU community."
AFC Bournemouth Commercial Director, Rob Mitchell, said, "The university has been an incredibly supportive partner with us for a number of years now, supporting us through research, community activities, and with our Junior Cherries. We look forward to another season working alongside them in Dorset and beyond as we continue to put Bournemouth on the map!"
A range of community and research activities are taking place between the two organisations. BU's Osman Ahmed, a Senior Lecturer in Sports Therapy, works alongside AFC Bournemouth's physio team to prepare players, while other academics have been working on research to understand fans and sporting behaviour. A number of match-funded PhD opportunities have been created to continue to support research between the two organisations.
In addition, BU has been working with AFC Bournemouth Community Sports Trust to develop a number of community health outreach projects, including MENTalk, a monthly peer support group for men affected by cancer, and GOALS, a free eight-week health and fitness programme for men and women over 35.
Each season, one Cherries game is designated as the BU Big Match, a chance to celebrate the partnership between the two organisations. This year's game will take place vs Chelsea in February 2020.
For more information about Bournemouth University's partnership with AFC Bournemouth, visit: www.bournemouth.ac.uk/afc-bournemouth