Around 90 pupils from a Bournemouth primary school were taught the importance of vegetables for their health and the planet at an event led by BU academics.
The 'Rainbow of Vegetable Literacy' event saw 7-8 year-old pupils from Hill View Primary Academy participate in a quiz, make vegetable art, taste a selection of prepared veg and plant a crop of their own.
Dr Jeff Bray, one of the organisers of the event, said: "Many of the children we worked with didn't have strong knowledge of vegetables or the variety of different ways that we can eat them and already by the age of 7 had formed some strong preferences.
"For example, many said they didn't like broad bean, however, when we asked them to try this vegetable prepared in a different way they did like them."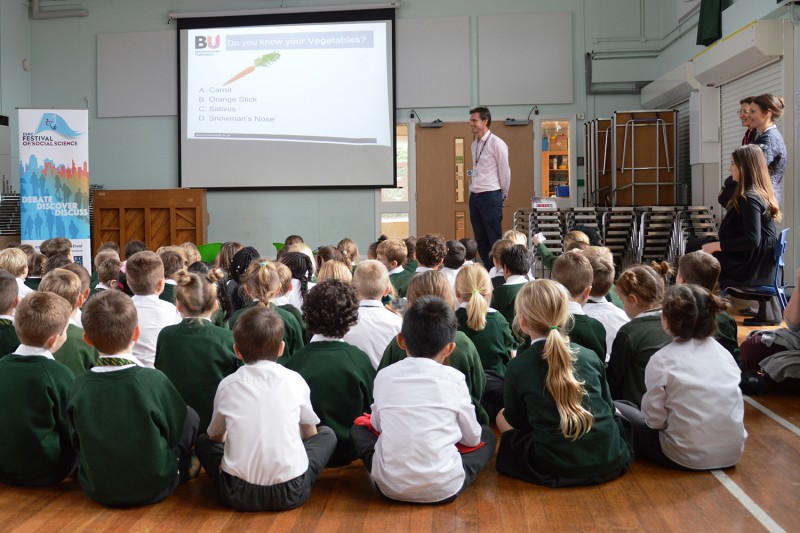 The event was a part of the ESRC Festival of Social Science, a celebration of the social sciences committed to promoting awareness of research to new audiences.
Two BU projects - VeggiEAT and Veg+ - have researched factors related to increased vegetable consumption and the need to target primary-age children.
The ESRC Festival of Social Science funding provided gardening equipment and every child was able to plant a broad bean seed, and will be able to follow its germination and growth through to harvest in the summer.
One pupil, aged 7, said: "I learnt that I like the fried version of a broad bean. I also learnt that a banana tree can grow as tall as me in one week."
Pupils also took part in an interactive vegetable quiz and designed a sign for their new 'allotment' -  the best designs will be professionally printed. The academics will return to the school in December to present these signs and see how their seedlings are growing.
Dr Bray said: "The children were all super enthusiastic about the afternoon and will enjoy seeing their plants grow through to harvest through the school year."
He added: "The event was a great opportunity to see first-hand the impact that our research can have and has already led to discussions around the development of the next research grant application."
After the session the class had the opportunity to give their own written feedback. One 7-year-old commented: "I learnt that if you don't like something you can't give up on it."