Former Premier League referee Ray Lewis – who took charge of games in the Premier League, FA Cup and Europe – visited Bournemouth University to talk to students about athlete welfare and officiating in high-profile sports.
Ray worked as a top level referee for 24 years, and has been credited with changing the way that referees themselves warmed up before games.
BU's Osman Ahmed, who worked with Ray for the FA Cerebral Palsy football team, said, "Ray warmed up before games once upon a time, and that led to a shift in the way that referees warmed up. He was one of the first referees to warm up before a game. That was caught on a TV camera at the start of a match on Sky, there was a bit of discussion about that, and as a result of that, referees started warming up pre-match as well.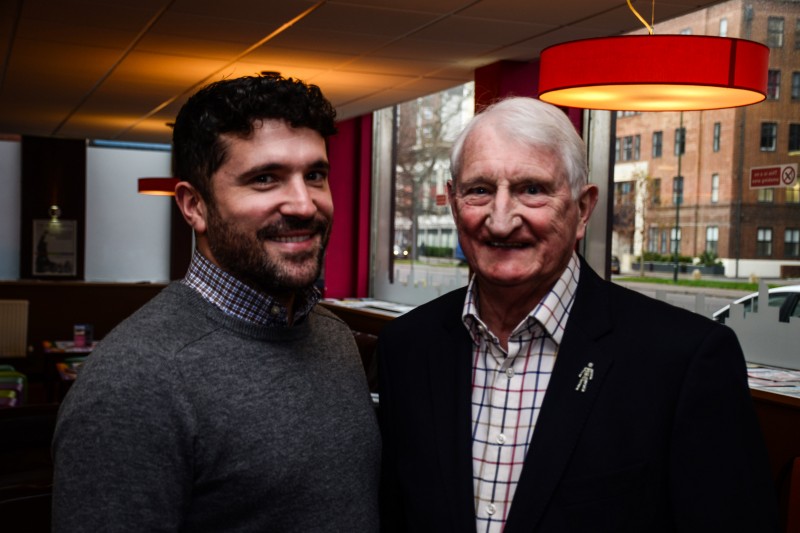 "I think a lot of the things we are going to be talking about with Ray's experience in officiating in FA Cup semi-finals, Europe, all sorts of high-profile events, he'll be in a great position to give insight to our students and I know they will learn a lot from him.
Before speaking to students, Ray said, "I've been invited by Osman to give a lecture on refereeing, on training, on the laws of the game and the structure of football.
"We're going to look at the fitness levels of match officials and what they have to go through to keep up a standard of fitness, injuries that occur, how referees deal with player injuries on the field of play and the tendency now to change the laws of the game, to change things like blood substitutions, while certain treatments, like stitches for instance, can be put in correctly and not rushed. That is something that FIFA are looking to introduce next year."
Ray commented on how the level of professionalism among football referees has increased as the profession has become more professional. He said, "I think the fitness level now at the top level is better, simply because when I was around at that level, we were doing it as a hobby. Though we were very professional at doing it as a hobby. Nowadays of course these people are doing it full time, so they have the opportunity five days a week to go training, therefore you see a fitter referee now than in my day."
Ray's insight into athlete welfare comes from his long career in the sport, where he took his role seriously. He said, "Match officials have got a responsibility towards the safety of the players; they always have had, of course, but now with legislation which has been introduced it is more acute than it has been in the past."
Ray spoke to students on the athlete welfare unit of the Sports Therapy course at Bournemouth University. For more information about the course, visit: https://www.bournemouth.ac.uk/study/courses/bsc-hons-sports-therapy-2