A Product Design student at Bournemouth University has 3D printed over 700 face shields to protect frontline workers during the coronavirus pandemic.
Stephen Lee, who lives on the Isle of Wight, has been using his 3D printer to produce headbands to which he attaches clear acetate to create a face shield.
With the help of a team of volunteers, he has so far produced over 700 face shields which are being used by frontline services on the Isle of Wight including care homes, GPs, HMP Isle of Wight prison and St Mary's Hospital.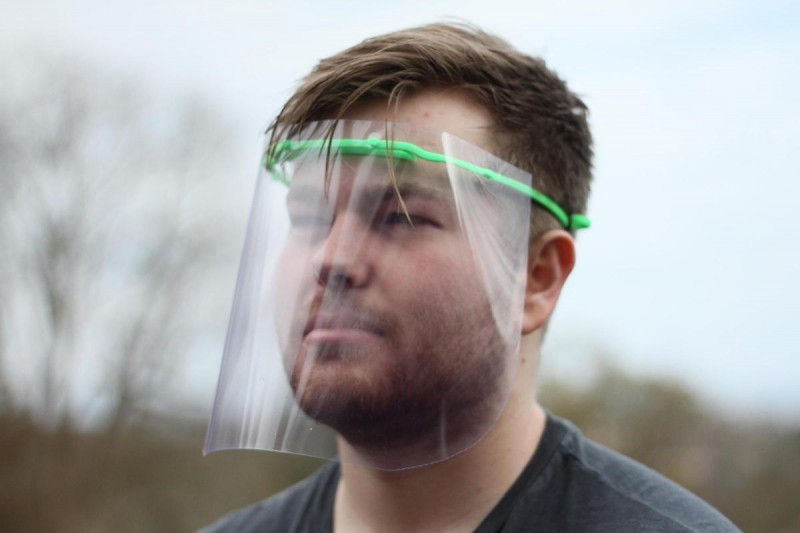 Stephen, who is self-isolating at home as he has had two kidney transplants and is considered at high risk, said: "While being in self-isolation I saw on social media on how essential key workers in my community, and the country, don't have the correct PPE.
"I have a close connection to this lack of protection as my sister is a community carer, and see her and her colleagues worrying about how they are going to protect themselves, their clients and family.
"I found a design for a face shield that was already being used around the world. I then started using my 3D printer using PLA filament to start printing them."
Each headband takes around 27 minutes to print and Stephen has a team of 15 volunteers who are helping to print them.
"For the shield we are using acetate as this is widely available and it's a cheap but safe material to use," said Stephen, who is in the final year of his Product Design degree.
"It clips on to the face shield by four holes - this means that if the acetate breaks or needs to be changed, it's easy for anyone to just take them off and replace them.
"When we first started producing them, we never expected how in demand face shields are in the Isle of Wight community – I honestly thought I would create maybe about 100 and that would be it.
"But the response has been very surprising and actually quite upsetting, as hospitals, care homes and GPs should not have to be relying on homemade face shields."
Stephen has set up a GoFundMe page to pay for the materials needed to continue producing the face shields.
"So far we have raised £1,700 but, as we are still being inundated with people still asking for the shields, we still need to raise more money.
"We are still getting orders from people asking for 50+ face shields, and raising more money will allow us to keep on making the shields for as long as the community needs them."
Anyone who would like to help make the 3D printed headbands can email Stephen at [email protected].