Bournemouth University and AFC Bournemouth have extended their formal partnership for a further three years – with the university increasing its support of the girls' and women's teams.
BU is already the official higher education partner of the Cherries, a partnership that sees staff and students undertake a variety of education and research initiatives, as well as a range of other benefits for both organisations, and supporters and the local community.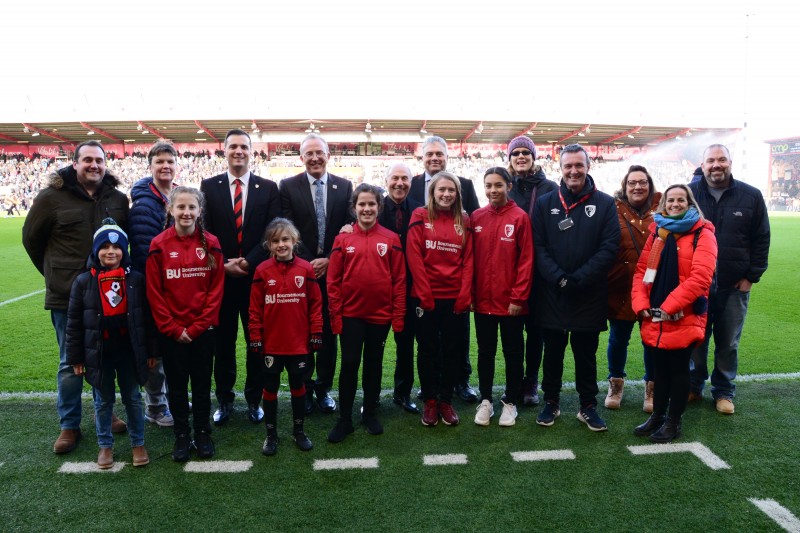 The university has historically been a main supporter of the club's girls' teams from under-10s to under-16s as part of its development football programme.
In an addition for the 2020/21 season, Bournemouth University will now feature on the front of the shirts of the club's women's team, as they compete in the Southern Region Women's Premier League and the Women's FA Cup, as the partnership provides increased support to the development of women's football and the focus on the pathway from participation, through to the first team.
The formal partnership between AFC Bournemouth and Bournemouth University is entering its eighth official year, though the two organisations have been working together for longer.
The partnership includes a range of academic, practical, community and football activities, benefiting staff, students, Cherries fans and the local community. Cherries coaches support Bournemouth University's men's and women's football teams, while students also working closely with the club on a range of placements, live project work and match day work experiences.
Players and AFC Bournemouth staff are regular visitors to the BU campus to provide valuable insights to students, while AFC Bournemouth chairman Jeff Mostyn is a Bournemouth University honorary doctorate recipient and works closely with the university to ensure students also feel welcome to their new home.  
Each season, one Cherries home game is designated as the BU Big Match – a chance to celebrate the partnership between the two organisations. This season's fixture will take place against Nottingham Forest in November.
Jim Andrews, Chief Operating Officer at Bournemouth University, said, "For many years, colleagues, students and the local community have had the opportunity to experience many unique opportunities as a result of this partnership, and I am delighted that we will be continuing our close working relationship for a further three years.
"I am particularly pleased that Bournemouth University will be supporting the entire pathways of girls and women's football, providing opportunities for the local community and beyond."
AFC Bournemouth commercial director, Rob Mitchell, said, "The university has been a great supporter of our club for a long time and I'm delighted that this will be continuing for another three years.
"There is a fantastic working partnership and huge respect between the organisations, through the various academic projects and community activities we undertake together, and long may that continue."
Find out more about Bournemouth University's partnership with AFC Bournemouth