A group of Bournemouth University Multimedia Journalism students have won 'Best TV newsday' at the Student Journalism Awards 2020.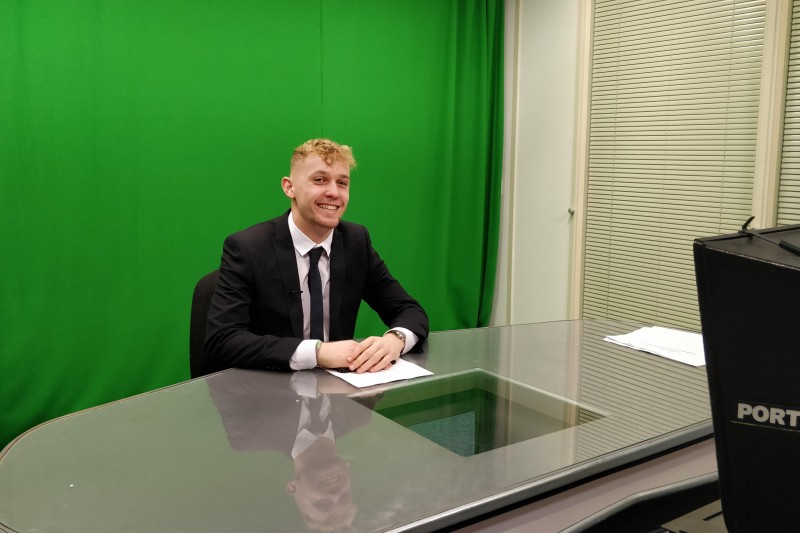 Ross Millen presenting Buzz News.
The awards ceremony, run by the Broadcast Journalism Training Council (BJTC), highlight outstanding work by UK university students and includes TV, radio, online, podcast and social short categories.
After receiving hundreds of entries, BU's newsday - a multimedia project complied to professional deadlines - was selected by a panel of judges from the journalism industry. The winning final year students were all from Seminar B and completed their honours degree in June; many are now working in UK newsrooms.
Programme, Leader Miriam Phillips, said: "During the three-week unit we ran all-day TV, radio, online and social bulletins across the entire year with two main bulletins a day. It really brings together all of their skills and culminates in great professional output."
She added: "It is a tough field and this newsday is a great example of how students produce breaking news throughout the day. These students produced exceptional work led by a team of our industry experts."
It's the BA Multimedia Journalism team from Bournemouth University @Journalism_BU who have taken the prize for Best TV Newsday at the #bjtcawards with @ElizabethGlinka. See them in action here: https://t.co/IFkIu2tjJC pic.twitter.com/oBfvrEi8ws

— BJTC - Journalism courses (@BJTC_UK) November 10, 2020
Student news anchor for the bulletin, Ross Millen, now working as a reporter for Somerset Live, said: "I'm really proud of everyone in my seminar that helped us win at the BJTC awards. It's an incredible achievement to beat the other entries from across the country and really to showcase the work at BU.
"Converged newsdays have really set the bar high and showed us the levels of integrity, professionalism and hard work that goes behind every newsday. I feel that any student who embarks on the converged newsdays has a high standing ground for any professional job working in and around a newsroom."
Bournemouth University's BA (Hons) Multimedia Journalism degree is accredited by three industry bodies – the BJTC, The National Council for the Training of Journalists (NCTJ), and the Professional Publishers Association. The journalism students run a journalism website, Buzz News, report live on AFC Bournemouth games during their newsdays online, on social media, TV and radio. The course is in its 27th year and will also launch a sport journalism degree next September.