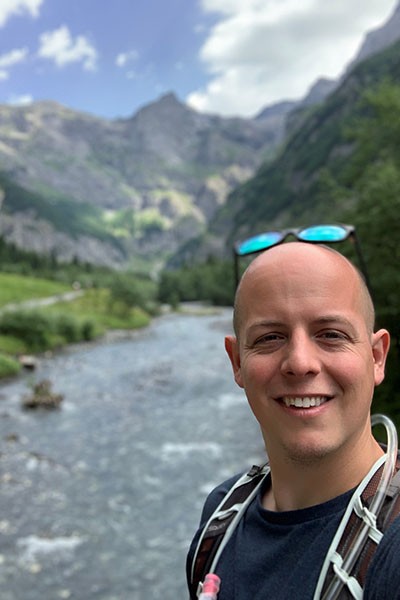 Google recruiting specialist and scriptwriting graduate Rich Cobbold has been named BU's alumni volunteer of the year.
Every year, BU recognises a graduate who has volunteered their time and expertise to support students and staff. This year, the title has been awarded to Rich, who has mentored students as well as shared insights on career planning through a series of guest talks.
As a Recruiting Specialist for Google Cloud, Rich works in partnership with senior business leaders to recruit marketing and sales-focused talent into the Google Cloud business unit. Rich graduated from BU with a BA (Hons) in Scriptwriting for Film and Television in 2007 and went on to work in sales for Enterprise Rent-A-Car, before making his first move into recruitment with Michael Page. He said: "If you'd have told the 19-year-old me that one day I would be returning to the university to give guidance to the next generation about how to make the most of their own careers, I would have laughed in disbelief. To be given an award for doing so is overwhelming.
"I've never really felt like I had a career plan, or any particular expertise, so to be in a position to share my knowledge to help students is truly exciting for me, and if I've helped even one person it's been worthwhile. It's also great to be able to return to a place I feel so connected with. BU is a special place which has had a lasting impact on me."
As well as speaking at alumni events this year, Rich has led workshops on the extracurricular Student Talent Employability Engagement Programme (STEEP). Joanna Milner, Student and Industry Engagement Coordinator, said: "Over the past three years Rich has very generously given up his time to be involved with STEEP activities within the Bournemouth University Business School. He has a huge wealth of knowledge and experience that he is always willing to share in an inspiring and honest way, whilst engaging students and igniting their passions. Rich is very approachable and relatable, so students are very comfortable asking questions and connecting with him after the events."
Rich was one of more than 170 alumni who volunteered with BU over the past academic year, collectively providing more than 1,200 hours of support. Michelle Poole-Winter, Alumni Relations Officer who oversees the volunteering programme, said: "Our alumni are so generous with their time and each instance of volunteering brings real value to our students who are able to learn from those who have gone before them. This type of engagements helps to build students' confidence and employability to support them in their next steps."
Reflecting on his involvement with BU this year, Rich added: "One question I've been asked a lot this year is whether I think students leaving university now are at a disadvantage in the midst of this pandemic and with changes the world is currently going through.
"The world is absolutely changing, and that may mean some temporary upheaval in the way we all work, even difficulties getting the first role, but ultimately new careers will be created to cater for this new normal. Opportunities and advantages will come to those who are adaptable and say yes, and that's a lot easier for someone to do at the start of their career than someone who has to learn to change a routine that's ingrained. My advice is to be the agile, adaptable person who says yes!"
To find out more about the alumni team and what they offer, please head to the website.