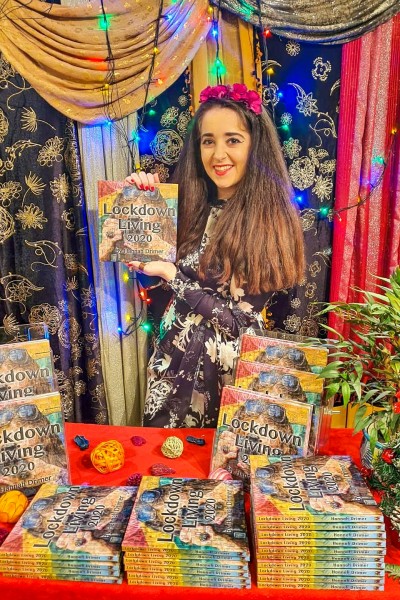 BU television production graduate, Hannah Drimer, has been using her creative skills to document an important part of social history and raise money to help those in need. 
Hannah graduated from BU in 2017 and since then has been working in television drama, as well as running a professional photography business.
At the start of the national lockdown in March 2020, she set out on a photography project to record this unprecedented new way of life. Hannah reached out to families, friends and contacts to take portraits – usually outside their homes – with objects that represented their time in lockdown. In total she collected 118 narratives which have now been compiled into a photographic book; with 10% of sales going to The Big Issue Foundation.
Hannah, aged 25, said: "I was keen to expand my photography portfolio, take on a new challenge and create a positive impact. Many people told me after visiting them and taking their photographs, how much it made their day having a change and something to dress up and look forward to! Not every narrative was positive, but in almost all circumstances there was hope for the future. For some the lockdown was, and still is, a challenge mentally, but hopefully people will be able to read and relate to the stories told, sometimes smile and take a positive message forward."
You can find the initial print run of the book on Hannah's website and on her social media accounts, Instagram and Facebook, where she has also been posting live videos.