BU's Emeritus Professor Nigel Jump writes the next in a series of economic blogs looking at the impact of covid-19 on the economy.
The political drama of the national budget was intensified this year by the pandemic, Brexit and climate change.  The Chancellor had to balance the short-term need to bolster a hoped-for economic recovery with the medium-term need to restore the state finances and the long-term aim for productive investment.
The OBR forecasts centred on a growth and inflation outlook of 4% and 1.5% respectively for 2021 and an upturn building through 2022-2024 (see table).  Frankly, at present, all forecasts are even more uncertain than normal but the OBR's combination beyond 2022 looks too anaemic, especially on inflation.  If the OBR view is anywhere near the outcome, it implies a return to pre-crisis levels (late 2019) by mid-2022.  However, even in five years' time, it still leaves the economy 3% below where it "would have been".  With medium-term growth so poor (below 2% p.a.), and an increased risk of higher interest rates and prices, higher unemployment remains possible.  (Every 1% increase in borrowing rates implies an extra £25bn cost to the Exchequer.)
The pandemic has reset the fiscal balance with public sector net debt (PSND) exceeding 100% of GDP.  This high level and its associated financing will persist for years.  The medium-term question is how to address the restoration of some balance between expenditure and taxation whilst wanting a) to promote innovation and skills and, b) to address inequality and climate change.  (Remember, a state deficit and an external deficit mean a private surplus, fuelled by good growth, balance those gaps.)
OBR forecasts for UK economy: March 2021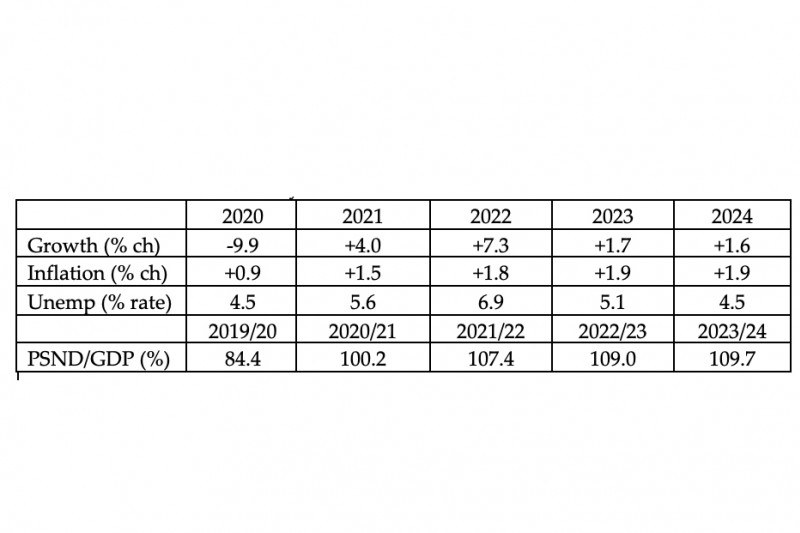 In headlines, the Chancellor's fiscal approach can be summarised as threefold:
Short-term: continue immediate support through the furlough and other schemes to support business and incomes (jobs) through 2021.  Spend lots to shore things up.
Medium-term: take back current largesse and prepare for higher taxes on corporates and, by stealth, the relatively well-off to stop public debt rising indefinitely, with the effect building through 2022-26. Restore fiscal balances.
Long-term:  nudge behaviour towards more green growth, levelling up the regions and encouraging investment in infrastructure, innovation and training to create a competitive and low carbon economy for 2030+.  Increase productivity in 'new' growth technologies.
It is hard to argue with these headlines, although the temporal transitions between them are far from assured.  The devil is in 'the detail' and on 'what's not said'.  On the former, there is a lot of uncertainty about how all the potential new influences on corporate and household behaviour will play out.  On the latter, there is little or nothing about 'current' spending on such as the NHS, social care and other 'crisis safeguarding' for future catastrophes.
Meanwhile, if the Johnson-Sunak project bears fruit, there are plenty of potential areas for Dorset to play for … or miss out on.  Amongst the long list are:
Business and household support measures for housing, fresh starts and apprenticeships et al.
The Super Deduction investment-tax allowance at 130% for 2 years.
New loans from the new UK Infrastructure Bank in Leeds.
Working with the new Freeports – and being in a second wave?
Access to Carbon Offset markets through the City.
'Help to Grow' schemes for SMEs, digital and other sciences etc.
High skill and entrepreneurial personal residence visa relaxations.
New town and area growth deals.
Government relocations and local take-over of pubs, gyms etc.
R&D and Enterprise management consultations
In these contexts, how do we sell ourselves as part of the country in need of being levelled-up along with the northern "red seats"?  Over to the local MPs, the BCP and Dorset Authorities, the DLEP and other institutions/agencies to make the case(s).
In these blogs, I often talk about the need for more investment in innovation, skills, and infrastructure in a way that is environmentally sustainable and leads to faster productivity growth, more competitiveness and higher well-being.  Budget 2021 appears to endorse this kind of development approach.  In the end, it is about local businessess grabbing opportunity and creating value … Good luck y'all.