Final year undergraduate Retail Management students have worked on a real-life consultancy project assigned by Jamie Awdry, Head of Propositions at Costa Coffee.
Students were given the opportunity to put their skills into practice to deliver a business solution for a Costa Coffee business problem.  
The consultancy project looked at the role of coffee shops in a post-Covid world. Costa Coffee asked the students to explore how coffee shops could adapt to flexible working whilst thinking about the safety of customers post-Covid.  
Jamie Awdry, Head of Propositions at Costa Coffee, said: "The world has adapted faster in the last 14 months than the 10 years prior; we're really excited about driving new customers to our shops in a post-Covid world.
"Targeting home workers and students by providing suitable environments will be critical in achieving this. Using the skills of the business management students provides us the chance to learn new ideas and get quality market research." 
One of the ideas Costa Coffee has developed from the insights provided by the students has been to create private spaces in their stores to work.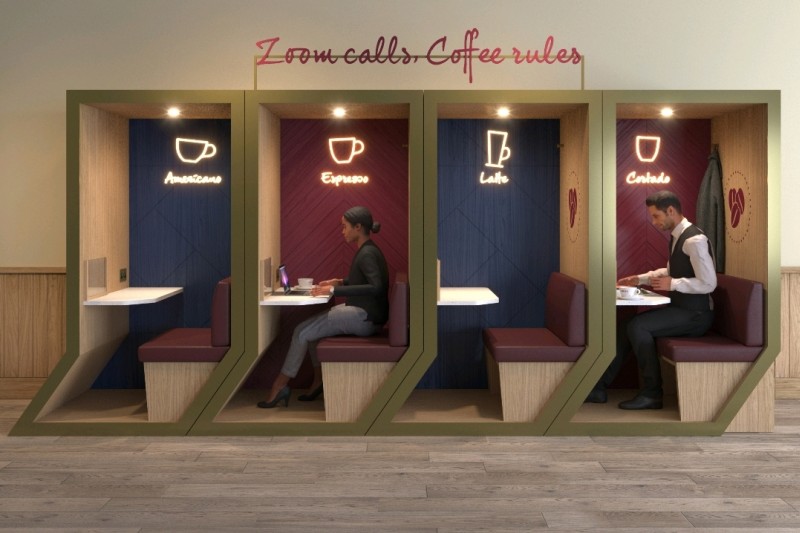 The images above present a visual concept of the booths and the first physical prototype of the workspace.
Jamie Awdry added: "We believe that in our stores near universities we can deploy these spaces to become the location for focussed study in a designed suitable environment." 
Corinna Budnarowska, Deputy Head of Department in People & Organisations, said: "I advocate Consultancy Project units in business courses because it gives students the opportunity to engage with industry and to consolidate their academic learning in a practical and strategic setting. Not only do students learn a lot from this, it also serves as a source of competitive advantage over other graduates entering the workforce."  
Corinna added: "I facilitate the client-student relationship and encourage students to use me as a sounding board for generating and developing their ideas over a semester. They learn to work as a group and how to tackle 'real life' business problems." 
Since Bournemouth University Business School started collaborating with Jamie Awdry in 2003, the partnership has seen 12 successful consultancy projects, 15 years of industry placement students hired in his teams and 20 Bournemouth University graduates recruited.  
Jamie said: "The Business School compliments the retail industry by ensuring their graduates are set for success and understand the market, including all current challenges." 
Find out more about the Business & Management degree at Bournemouth University.