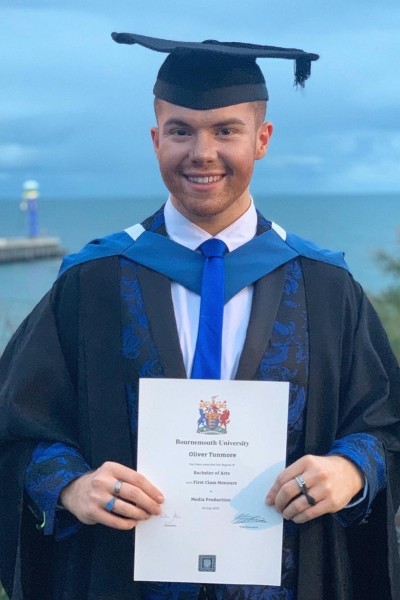 BU graduate Ollie Tunmore (he/him) credits his time at university as being pivotal to shaping who he is today.
Having achieved a first class honours in his media production degree in 2018, he now works as a Senior Account Executive at Spa Communications - a PR agency for the technology sector - while also pursuing his love of filmmaking as a freelance videographer.
While the degree opened up new professional opportunities for Ollie, he reflects that the university experience was also important for personal reasons. He said: "Starting at BU was a key milestone for me as I decided to come out on the day I moved into my halls. I had told a few close friends from school that I was gay, but I decided the move to university was the perfect opportunity to live completely openly as who I was, for the first time. I found the university environment to be incredibly supportive. Sometimes, that support doesn't have to be formal, or even spoken. Just being able to tell my flatmates that I was gay - and have them tell me that they had already worked that out and that it was no big deal - was such a new but rewarding sensation to me. I also found Bournemouth as a town a very welcoming place to live. I was never made to feel uncomfortable or that I couldn't present as I wanted to, which definitely helped me explore who I was at that time."
Ollie went on to use his skills in media and film to promote key issues and interests relating to the LGBTQ+ community. This included leading a final year project for the UK's leading sexual health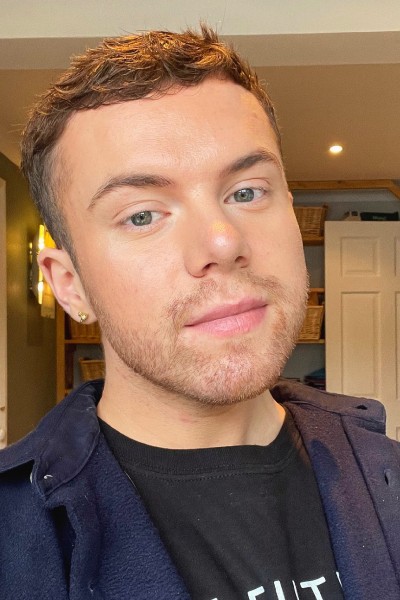 charity, the Terrence Higgins Trust, before then shooting a documentary into the world of drag featuring stars from RuPaul's Drag Race in both the US and UK. Ollie said: "My first encounter with the drag scene was going along to a drag night at DYMK (an LGBTQ+ venue in Bournemouth town centre). If I'm honest, I previously had mistakenly preconceived notions about this type of environment and wasn't sure it would be for me, but I had the most fun I've ever had. I began taking on small filming jobs there which helped me to expand on my production skills learned from my course and then managed to secure a press pass for a national drag convention. I began documenting interviews with drag artists who are well known on the scene and the final documentary was very well received, including being shared by the production company behind 'Drag Race' in the US. I have learnt so much more about the drag world and different interpretations of what it means to be LGBTQ+ by doing the documentary and I would love the opportunity to revisit it with another film in the future. I think it's important to keep developing your understanding if you are going to be an ally for a particular group of people, and to never remain complacent with your knowledge or support."
Having started blogging about LGBTQ+ issues for the Huffington Post while at university, Ollie has gone on to lend his skills to support professional networks. While working in the Facilities Management sector, he volunteered as the PR Co-ordinator for the LGBT+ in FM Committee and is now actively exploring opportunities to be a representative and advocate within the PR sector.
Ollie said: "I am pleased to say that I haven't found my sexuality to be a barrier in terms of my career, but I know that isn't true for everyone and it is certainly harder in some sectors than others. I believe that those working in PR and communications have an important responsibility to be inclusive and sensitive towards how people want to be represented, as such a large part of our jobs are
often focused on people, so I want to always play my part in helping to ensure that representation is diverse and authentic."
As for his university experience, Ollie says: "I remain incredibly thankful for my time at BU. It enabled me to take the baby steps I needed to discover who I really am and in that supportive environment I was able to find my voice, begin to support other areas of the community and become a much more self-aware and confident individual."