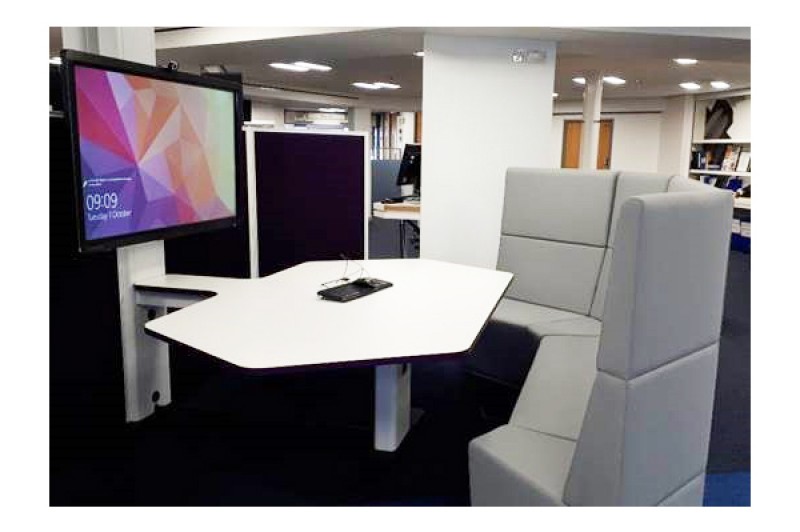 We are pleased to be able to ease some of the restrictions on library access, while still adhering to Covid guidelines. We hope these developments will help those who are still studying on campus over the summer, including our BU Masters students and PGRs.
Group study spaces
We are piloting some group study spaces in both The Sir Michael Cobham Library (Talbot Campus) and the Weston Library (Lansdowne Campus).
From Monday 28 June, you can book a group study space for between two to five people, depending on size of desk and distance from adjacent desks.
Only one member of the group will need to pre-book the space using our LibCal booking system. All group members should register at the Library Help Zone on arrival, as we are required to record details of occupancy for track and trace purposes.
Browse and borrow
From Thursday 1 July,  BU students and staff will be able to browse at the library's bookshelves and borrow items using the self-service units. 
Please ask staff at the Library Help Zone if you're not sure where to find the books you need, or how to use the self-service equipment. It's been a long time since these facilities were available! 
For the time being, we're also continuing with our Reserve and Collect Service for those would prefer to borrow books by that method.
Carpet replacement on Floor 1
During the quiet summer period we're making improvements to the library environment. New carpet is being laid on Floor 1 of The Sir Michael Cobham Library from Monday 28 June to Friday 2 July inclusive. 
During the work there will be no study spaces available to book on Floor 1.  Access to the books on Floor 1 will be maintained, by using the staircase in the Library tower.