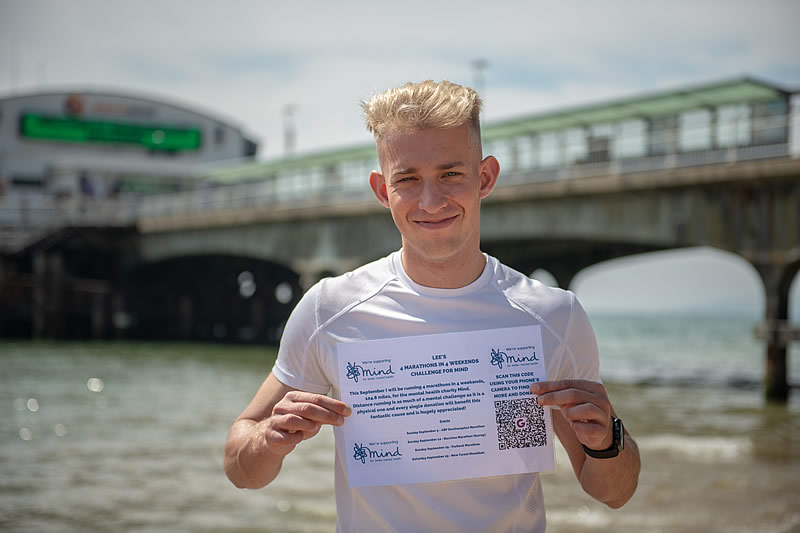 A Bournemouth University graduate is set to run four marathons in four weeks to raise awareness of mental health.
Lee Bonham, aged 23, will be taking part in the 26.2 mile races in Southampton, Surrey, the Purbecks and the New Forest to raise money for the charity Mind this September.
Lee, who studied a BA (Hons) in English at BU, hopes to raise as much as he can while highlighting the benefits of exercise for physical and mental wellbeing.
He said: "I have experienced the impact that lockdown and the pandemic has had on myself and everyone around me, but especially my friends in their late teens and early twenties. Not being able to socialise, see friends and loved ones, and isolation has been incredibly tough and made it more important than ever to check-in and have honest conversations with people about how they are feeling.
"For my own wellbeing, being able to exercise and get outside throughout this period has made a huge difference to my own mental health. I find running one of the best methods for switching off and taking some time to relax and unwind."
He added: "Distance running is as much of a mental challenge as it is a physical one, so it felt appropriate to undertake these events for the mental health charity Mind. If the last year and beyond has made one thing clear, it is that mental health is an integral part of fitness, an integral part of our wellbeing and something that is chronically undervalued and underappreciated when we talk about our general health."
Statistics from Mind show that 1 in 4 people experience a mental health problem of some kind each year in England, whilst 1 in 6 reports experiencing a common mental health problem such as anxiety and depression in any given week in England.
Lee said: "I am undertaking this challenge for every single person who has faced mental health challenges, no matter how big or small, for every single person who still faces struggles with their mental wellbeing, and for every single person who may one day face those hardships. Every single donation will benefit this fantastic cause, and will motivate me to ignore my sore, angry legs across the coming months."
If you wish to donate, please visit: Lee's JustGiving page here.
For more information and support if you are struggling with your mental wellbeing, please visit the Mind website.
Image Credit: Vivien Francis