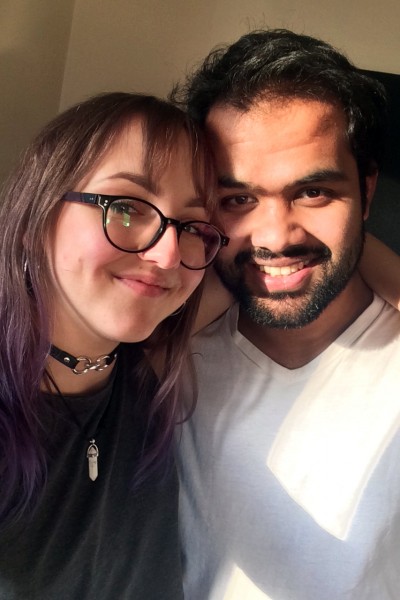 A pair of Bournemouth University (BU) students have won an award celebrating young creatives in the field of visual effects, animation, virtual reality (VR) and video games, with their immersive VR experience, Project Photon.
BU postgraduate students Michaela Kindlova and Abhineetam Chaurasia won the Game of the Year - Immersive Media category at 11th annual Rookie awards, which featured over 4,000 entries from across 98 different countries.
Project Photon took shape as part of their MA 3D Computer Animation degree, supervised by Bournemouth University academics, Adam Twycross and Sofronis Efstathiou, within the National Centre for Computer Animation (NCCA). Michaela and Abhineetam developed the project so that players can indulge in an extraordinary VR experience exploring the ruins of a technologically advanced world with the help of a friendly maintenance robot.
Michaela said: "Immersive media is on the cutting edge of technology and entertainment, combining a variety of disciplines such as game design and development, concept art, animation, storytelling and sound design. (We had) the opportunity to have a go at each one of them, and the assignment was a big opportunity to grow together."
After a birthday visit to a VR centre in central Bournemouth, the pair were inspired to conceive an immersive game of their own. On campus, the MA's pre-production unit gave them a month to go through different ideas and storylines, with the support of their unit leaders. Michaela added: "We followed the iterative design process to land on the final edit."
With a win under their belt, Michaela commented: "We definitely have had a boost in morale, considering the reception it has received. We are thinking of making the game more than just a pilot. It is something we are proud of for sure."
BU students have created submissions for The Rookie awards since its inception. Principal Academic, Sofronis Efstathiou, said: "We have known the creators of The Rookie awards for several years. Over the last few years, more students have chosen to enter, and it has been an excellent platform to showcase their work and network."
Students studying MA 3D Computer Animation at BU have an opportunity to showcase their talents, says Sofronis. "They get to choose the focus of their projects. It can be a short animation, VFX shot, character sculpt, environment sequence, technical rigging project, a computer game; there are too many potential project areas to name!"
For their winning project Michela and Abhineetam designed everything, from the character and environment to the game mechanics and narrative. Sofronis said: "The course delivery provides the skills and artistic maturity to develop several project themes and (how to overcome) the technical challenges that accompany them."
If you have a passion for the digital arts and are interested in developing your own creativity, find out how you can develop the skills you need on one of our NCCA courses.