A book by a BU academic was shortlisted for the Cricket Society and MCC Book of the Year Award.
Ladies and Lords: A History of Women's Cricket in Britain, published by Peter Lang, was one of six books shortlisted for the award, which is presented annually at a dinner held at Lord's Cricket Ground in London.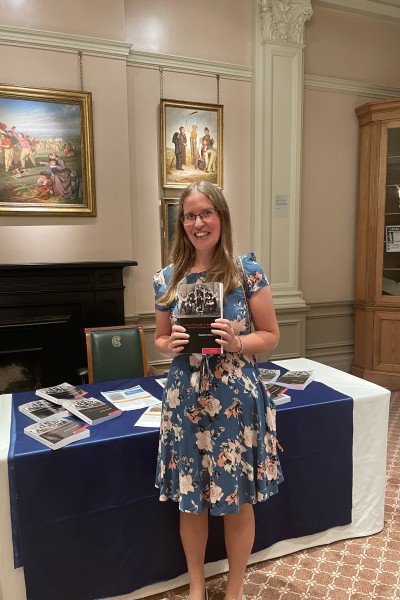 The author, Dr Rafaelle Nicholson, is Senior Lecturer in Sport and Sustainability in the Department of Sport and Event Management in the BU Business School.
Dr Nicholson is a leading researcher in the field of women's sport history. Ladies and Lords offers the first ever academic study of women's cricket in Britain from its origins in the 18th century to the present day.
Dr Nicholson said: "It was an absolute honour to be shortlisted for this award. I am grateful to my colleagues at BU for providing the supportive research culture to ensure this book came to fruition.
"Standing at the front of the Long Room to talk about the book was an amazing experience, especially given that it documents women's struggle to gain access to grounds like Lord's."
The Cricket Society Book of the Year Award has run since 1970, and is highly regarded by writers and publishers. This year, the event was held on 18 October, with Ashley Gray named winner for his book The Unforgiven, Mercenaries or Missionaries? The Untold Stories of the Rebel West Indian Cricketers who Toured Apartheid South Africa (Pitch Publishing).
Earlier in the year, Ladies and Lords was also shortlisted for the British Society of Sports History's Lord Aberdare Literary Prize, which is awarded annually to the best book on any aspect of the history of sport in Britain or for the best book on any aspect of sports history written by a British author.
"The visibility of women's cricket has grown enormously in recent years, but it's important that we recognise the achievements of all the women who fought to get to where we are today," Dr Nicholson added.
"I hope my research has helped raise awareness of the long history of the sport."
Find out more about Ladies and Lords: A History of Women's Cricket in Britain