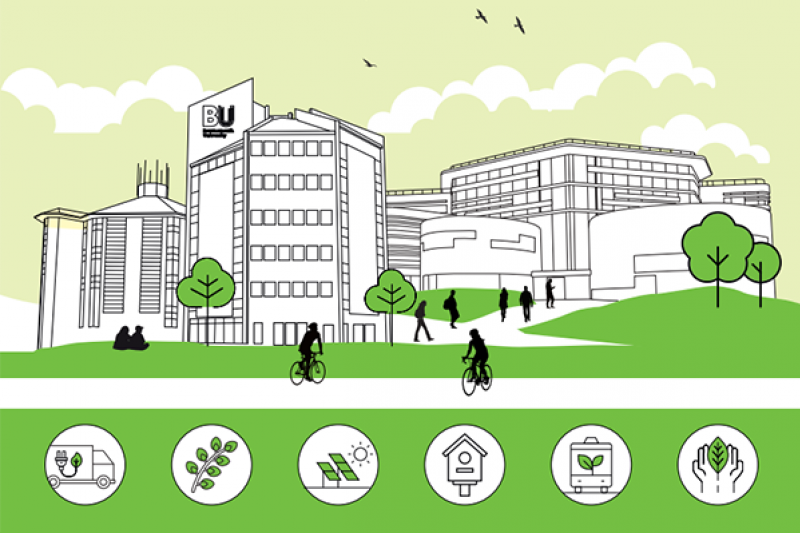 In 2020, BU released our Climate and Ecological Crisis Action Plan (CECAP), which committed us to achieving net zero emissions across all our activities by 2030/31.
With COP26, the international climate conference, occurring in Glasgow in November, we know now is a time for action. At COP26, world leaders are expected to raise the ambition and action taken to rapidly reduce greenhouse gas emissions, champion climate justice and protect nature, to tackle the climate and ecological crisis. It has been deemed by U.S. Climate Envoy John Kerry as the 'last best chance' the world has for taking climate action, so we want to echo this in Bournemouth and invite you to join our local COP26 events.
Our events and activities concentrate on our Green Day on November 10, but will run through and beyond November. They'll cover a range of topics and formats to meet you where you are in your climate journey, and we hope will support you to feel educated, able and empowered to take climate action yourself. Many of the events are open to the public, so please feel free to share the information with any friends and family who may be interested.
---
Watch COP26 throughout November
COP26 will be taking place from 1 to 12 November and you can join the events virtually by subscribing to the COP26 YouTube channel. You can watch the events live or after they've happened. To find out more about the events that are happening daily, please head to the COP26 website. 
---
Sustainability Challenge: Launch Event
Tuesday 2 November, 5pm – 6:30pm, online
Are you a BU student with a fantastic idea to make Bournemouth University more environmentally sustainable? Then sign up to the Sustainability Challenge by 31 November to join in and have a chance at winning £100!
During the BU-SUBU Sustainability Challenge, work individually or in teams across disciplines to develop and prepare a presentation of your idea to take climate action at BU ahead of the Final on 3 December where you will present to a panel of judges and be in with a chance to put your idea into reality.
Find out more and sign up here.
---
What Does Climate Change Mean for Bournemouth, Christchurch and Poole?
Saturday 6 November, 1pm – 3pm, Talbot Campus
Organised by East Dorset Friends Of The Earth And Bournemouth University and College Union (UCU), join this panel discussion to find out from local groups what climate change means for the local area and how to join in the action.
---
SUBU Green Day
Wednesday 10 November, 10am – 3pm, Student Centre
Want to learn how YOU can make a difference to our planet? Green Day is the perfect opportunity to learn about how you can move towards sustainable living and have an impact on climate change. Meet a wide range of organisations and not for profits that you can get involved with. Find out more here.
---
BCP Council Transforming Cities Fund Consultation
Wednesday 10 November, 12pm – 2pm, F202, Talbot Campus
The Transforming Travel (TCF) programme is south east Dorset's largest ever investment in sustainable transport infrastructure. BCP Council have been consulting on a range of suggested cycling route investment across the conurbation. They'll be coming onto campus to engage the BU community with the routes most linked to those who travel to the university. 
---
The climate crisis at Bournemouth University: taking action together
Wednesday 10 November, 10:30am – 12pm, F201 and virtual, Talbot Campus
In February 2020, BU released our Climate and Ecological Crisis Action Plan (CECAP), which committed us to achieving net zero emissions across all our activities by 2030/31. Join the BU Sustainability Team to find out what action we've been taking since making our net zero commitment, what we have planned and be part of a discussion to shape our future action.
Open to the BU and local community, register on Eventbrite here.
---
Human Futures Skills Masterclass: Building a business with purpose
Wednesday 10 November, 1pm - 3pm
This skills masterclass will focus on what is takes to build an entrepreneurial mindset for the businesses of the future. We will talk about the importance of resilience, empathy, societal contribution, collaboration and networking skills and how you might go about developing these skills as a part of this session.
We will be discussing what is important to us and how we can translate a business idea that we are truly passionate about into a career by hearing from speakers who specialise in supporting local start-up businesses who are really making a difference in our society.
It will also showcase examples of companies whose values are closely linked to the UN Sustainable Development Goals.
Find out more and register here.
---
Climate Justice Now: Online Student Debate
Wednesday 10 November, 7pm – 9pm, online
The climate and ecological crisis is happening now, and it is clear that communities who have contributed the least are already feeling the worst impacts. We need to reframe our climate action towards climate justice: we need Climate Justice Now.
Join us virtually for presentations by industry experts of Fairtrade and climate policy, and hear Bournemouth University vs Middlesex University London students debate: "Fairtrade is a critical part of any plan tackling climate change". This debate concludes a five-week student programme where the student teams debating have gained an expert insight into this complex topic and developed their skills to communicate it, ready for a debate worth saving the date for! Come along and cheer on Team BU!
Open to BU and the general public, register on Eventbrite here.
---
BU Climate Assembly: nature
Tuesday 23 November 12pm – 1pm, Talbot Campus
A BU Climate Assembly is a space for students and staff from across the BU community to gain an insight into BU climate action before sharing ideas and providing recommendations for how we should act on a topic. They occur bi-annually and focus on a specific topic that is relevant to the BU community and can be influenced by their interests.
Our November Climate Assembly, our second, will focus on nature: nature-based solutions and supporting habitats on campus. The session will start with presentations to introduce the CECAP and our ecosystems work so far and will be followed by a structured discussion that allows every voice equal weight and opportunity to speak. The result will be a set of recommendations that will be shared with the BU Sustainability Committee to review.
Find out more and sign up by emailing the BU Sustainability Team at [email protected]
---
BU and The British Library online events
The British Library - in partnership with The Institute for Modelling of Socio-Environmental Transitions at BU - is hosting three online events that examine how we protect British landscapes and encourage resilience in local communities.
Discover how communities have coped with environmental change in the past and the lessons we can learn as we respond to the effects of climate change happening right now. How are these landscapes altering and what should we do to ensure our management of them is sustainable? Drawing on discussions from the annual climate change conference COP26 and the latest knowledge about climate change adaptation, explore how we can manage environmental change in three different landscapes across Britain, and how we can make those who live in these landscapes more resilient.
Each event is focused on a landscape familar to us, involving a panel of people who research, live in and manage these environments, as well as the generation of young people who will inherit them.
Monday 22 November, 5.30pm – 6.30pm: Coastal
Coastal landscapes will be massively impacted by climate change. Sea level rises and flooding will mean there will be increased pressures on our coastal environments and those who live and work in them.
What will the impacts on our coastal communities be, and how do we ensure we manage these important landscapes to be more resilient to change?
Wednesday 24 November, 5.30pm – 6.30pm: Countryside
Our countryside encompasses a range of environments including farmland, marsh, heathland, moorland, woods, forest and mountains. Climate change is altering the way we manage and protect these landscapes and threatening those who live there.
As the climate changes, what do we need to do to protect biodiversity while ensuring we also protect local communities? From rewilding to regenerating, what can we do now to help our countryside be more resilient to change?
Friday 26 November, 5.30pm – 6.30pm: Urban
How will urban landscapes be affected by climate change? What can we do to adapt? With the majority of our population living in towns and cities, we need to make sure our urban landscapes are resilient and able to cope with the environmental impacts of climate change.
Housing, transport, food production, energy and infrastructure – how can we ensure our urban landscapes are sustainable, healthy and future-proof?