Bournemouth University (BU) and AFC Bournemouth have confirmed their ninth year of official partnership, with the two Dorset organisations working for the benefit of the local community, supporters, and the BU community.
BU is the official higher education partner of the Cherries, with BU's support extending to the club's girls teams from under-10s to under-16s as a part of the club's development football programme, with the BU logo on the girls' shirts. For the second season running, Bournemouth University's logo will also appear on the shirt of the AFC Bournemouth women's team as they compete in the fourth tier of the women's football pyramid for the first time.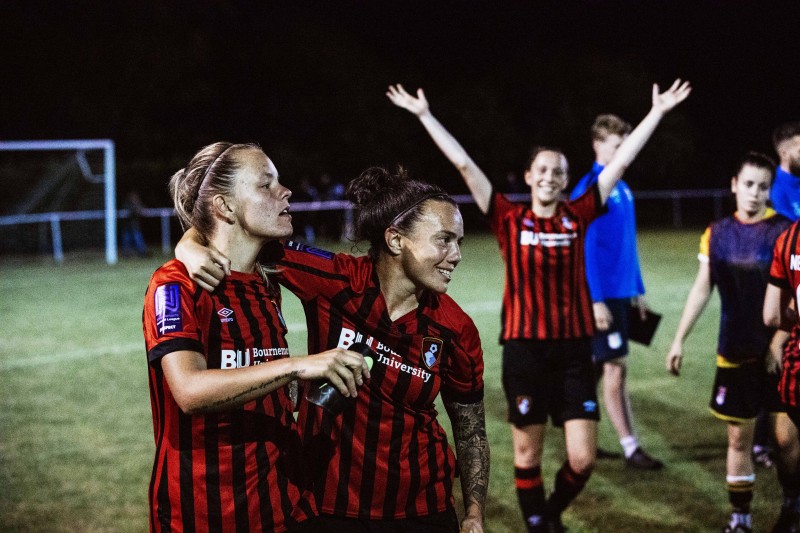 To launch the partnership, two Bournemouth University multimedia journalism students, Ollie Ferris and Andy Jones, worked with the AFC Bournemouth women's team to help launch their season. The two students put together video content to introduce the teams and interviewed AFC Bournemouth women's manager Steve Cuss about the season so far.
BU student Ollie said: "As a part of our course we were introduced to Nerve Media, the university's student media, and as my passion is sports, I've been really involved with the sports content. I've been able to get access to press conferences and games, to speak to Scott Parker and to players, and to really test our journalism skill."
Andy added: "It is just brilliant to see all the different aspects of what journalists do at a football club, and to be treated like the other journalists while we are learning and studying, the hospitality that the club has shown has been fantastic."
The partnership includes a range of academic, practical, community and football activities, benefiting staff, students, Cherries fans and the local community. Cherries coaches support Bournemouth University's men's and women's football teams, while students also working closely with the club on a range of placements, live project work and match day work experiences.
Players and AFC Bournemouth staff are regular visitors to the BU campus to provide valuable insights to students, while AFC Bournemouth chairman Jeff Mostyn is a Bournemouth University honorary doctorate recipient.
Jim Andrews, Chief Operating Officer at Bournemouth University, said: "We are continually proud of our partnership with AFC Bournemouth and all that it achieves for supporters and for the BU community, and the ways in which we can learn and support one another. We're really proud to be supporting our local team again this year and we're excited for the season ahead."
Commercial director at AFC Bournemouth Rob Mitchell added: "We're excited to continue to build on our excellent relationship with Bournemouth University, which has been a massive success for both parties during the nine-year partnership.
"Bournemouth University are a key strategic partner for the club, and we're delighted to be able to provide some unparalleled opportunities for their students.
"The direct involvement of students at the club varies from the women's' and girls' programmes all the way through to first-team roles in sports science, physiotherapy and media and journalism.
"We're proud to offer these opportunities, whilst also benefiting from access to academics, specialist research and engaging with students.
"Keep an eye out for some of our exciting opportunities and activations with Bournemouth University over the coming season."
Watch the videos created with BU students on BU's YouTube channel and for more information about the partnership between Bournemouth University and AFC Bournemouth, visit www.bournemouth.ac.uk/afc-bournemouth