While most of us have been getting our Christmas lights ready, BU has been preparing to turn on our newest array of solar panels, known as photovoltaic (PV) panels.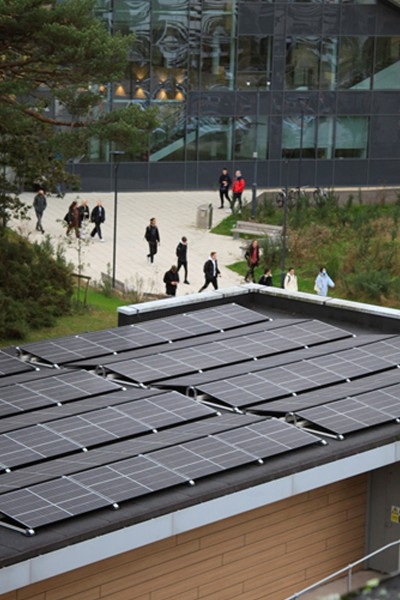 Even more solar electricity will be generated this year with our 9th solar PV system on the roof of our data centre, Jurassic House.
PV panels collect the suns energy to power our university buildings and the latest ones have been installed on Jurassic House on Talbot Campus. This new system will save over 5 tonnes of CO2e (carbon dioxide equivalent); that's two return flights to New York from the UK!
Back in 2010, BU didn't generate any of its own electricity. By 2020/21 solar panels across campus generated 496 megawatt hours which makes up 5% of all electricity used; that's enough electricity to power 132 UK homes for a year. We've come a long way in a decade and we're not stopping there. Our aim is to generate 10% of our energy from renewables by 2025. To help with this, we're planning on adding new PV panels at Poole House and looking at options for Chapel Gate.
A recent national survey by energy comparison site uSwitch, found that out of the universities compared, BU has one of the most onsite installations of renewable energy.
If you walk around campus you may be able to see some of them on the roofs of Bournemouth Gateway Building, Poole Gateway Building, Poole House, the Student Centre, the Fusion Building, Studland House, the waste compound by Poole House and even the solar glass on the Bus Hub. Since the installation of the first PV panels on Studland House in 2011, we've avoided releasing 551 tonnes of CO2e (carbon dioxide equivalent) (to 2020/21).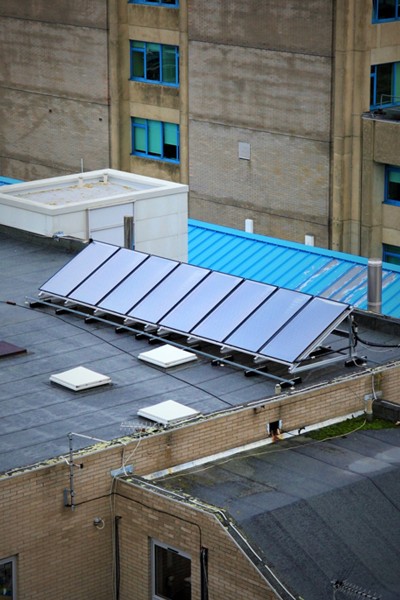 In 2021 we installed our first Solar Thermal system to generate heat for hot water at Poole House with and output of 12.88kWp saving us 1000m3 of gas per year.
It's not just electricity that causes carbon emissions; burning fossil fuel gas to make heat is a very big contributor. In 2012, we installed a biomass boiler in Poole House so we could generate our own heat from low carbon sources. As of 2021 BU now has its first solar thermal system in Poole House to heat water using the sun's energy and three buildings (the Student Centre, the Fusion Building and Bournemouth Gateway Building) have ground source heat pumps which produce heating and cooling from the earth beneath our buildings. In 2020/21, nearly 820 megawatt hours of heat was generated onsite – this is an amazing 8% of the campus total. Since 2012, onsite heat generation has prevented 2,652 tonnes of CO2e (carbon dioxide equivalent) of emissions (to 2020/21).
These brilliant energy achievements contributed to our recent success at The Times Higher Education Awards where BU won THE DataPoints Merit Award trophy in recognition of our own actions on areas such as energy efficiency, environmental education and net zero carbon commitments. We're really proud of our achievements and our Climate and Ecological Crisis Action Plan (CECAP) shows how we will reach net zero greenhouse gas emissions by 2030/31 if we all work together as a community.
If you're interested in getting more involved in sustainability at BU, please email [email protected] or check out our website.