Bournemouth University students are working alongside conservation experts on an EU-wide project to understand the migration habits of wild salmon and sea trout in the river Frome in Dorset, where the salmon population has been monitored for nearly 50 years.
The prevalence of wild salmon and sea trout in UK rivers has been on a drastic decline, and BU students have been working as a part of the Salmonid Management Round the Channel (SAMARCH) Project team to understand the issue and what conservation and management activities could take place to ensure their long-term survival.
The Interreg-funded project is being led in the UK by the Game & Wildlife Conservation Trust, with BU working alongside the Environment Agency, University of Exeter and Salmon & Trout Conservation and five French partners on the project. Students have been tagging wild salmon and trout in the River Frome in Dorset in order to track migration habits over time to understand migration patterns and those returning to the rivers each winter. The tags are the same small tags that a vet would insert into a dog or cat to identify individuals.
SAMARCH has a budget of nine million Euros across six years (2017-2023), 69% of which is provided through the EU's Interreg Channel VA programme to provide transferable scientific evidence to inform the management of salmon and sea trout in coastal waters on both the French and English sides of the Channel and to improve salmon stock assessment tools.
Students on BU's Life & Environmental Sciences courses have been working alongside experts to catch young salmon and trout to be tagged, recording data about their size, weight, prevalence and habitat use in rivers to contribute to international research alongside their studies.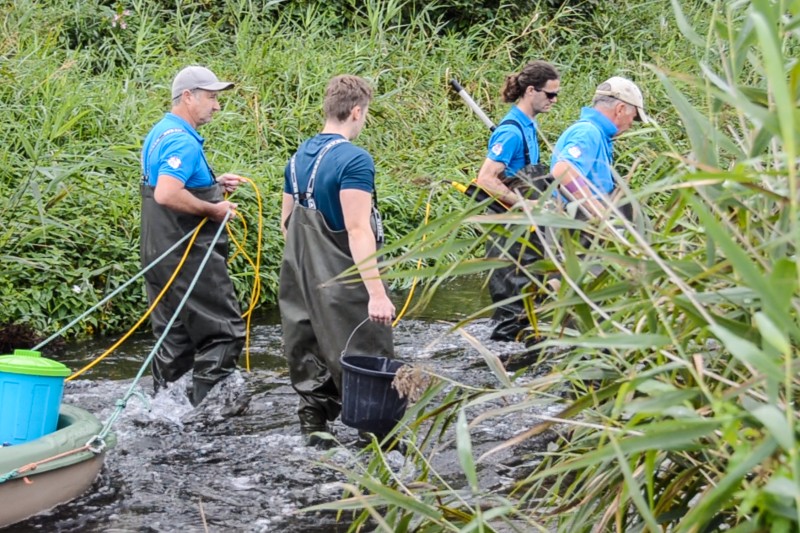 Dylan Roberts, Head of Fisheries at the Game & Wildlife Conservation Trust said, "Salmon are in huge difficulty, numbers of adult salmon returning to our rivers have declined by 70-80% over the last 40 years, so they are in huge trouble. We need to monitor the numbers to see how the populations are doing and why they are declining, there is a lot of work to understand it. We use many students who are a crucial part of our work as we run two teams of seven people for nearly four weeks each September and thus require at least 10 students over that time. Without the hands-on help of Bournemouth University students, we couldn't do it."
Professor Genoveva Esteban at Bournemouth University, said, "It is essential that the students gain hands-on experience in environmental conservation alongside their studies at university, to understand the issues they are being taught in practice, and to learn how to fully understand the problems we face and embed conservation techniques.
"Our students have a real passion for protecting and preserving a sustainable environment, and this practical experience allows them to roll up their sleeves and help to make a difference in a project that will have international ramifications. It means they can make a difference to the environment around them while they study, and it gives them the skills they need for their future careers too."
For more information about the project visit samarch.org or watch the video.