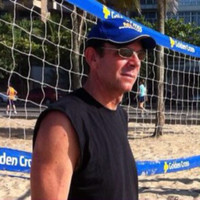 Bournemouth University (BU) are delighted to announce that Vangelis Koutouleas will be starting in the New Year as our Head Volleyball Coach (Indoor & Beach).
Vangelis has had an exemplary playing and coaching career and we are very proud to secure such a well-respected and knowledgeable Volleyball expert. We are excited at how this appointment will move our programme forward, enhance volleyball in the local area and reignite our performance ambitions.
---
Head of Sport and Culture at BU, Helen Palmer celebrated the news by saying: "These are exciting times for our Volleyball programme and we are pleased to bring our programme back on track.
"We know our student Volleyball leadership group Thea Gudenkauf, Soner Yasher, Tara Eaton & Luke Pusvaskis are extremely delighted about the appointment and SportBU would like to thank them and the rest of the squads for all their support and direction to the training this first semester."
Hearing the news, Thea said: "That's such good news for us!", with Soner simply adding: "Amazing news."
We are sure that the appointment will create many enquiries about opportunities regarding study and player development and ask for enquiries to be directed to Martin Wells: [email protected]
To find out more about Performance sport at BU please visit our Performance Sport pages.