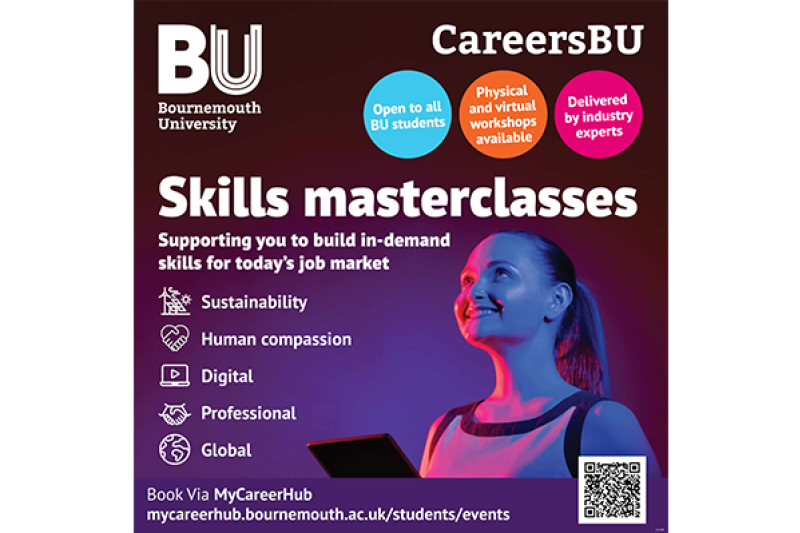 Skills development alongside your studies is essential to prepare for today's world of work and employers are increasingly looking for graduates that are proficient in 'softer' transferable skills in addition to specialised knowledge from a degree.
The BU Skills Development Programme is free and available to all current BU students. It provides a structured approach to your career development and helps you build confidence in the personal and professional skills that employers are looking for and how to apply them to a job, placement or graduate position.
Find out how to get the most out of the programme and showcase your development to employers below:
Explore the "My Skills Development" tab on Brightspace
Take a look at the "My Skills" tab on Brightspace, where you can access a variety of e-learning resources, events and LinkedIn Learning pathways. Resources in this section are mapped to nine key skill groupings and are organised so you can learn at your own pace and effectively fit in development around your studies.
Find out how to get the most out of the "My Skills" section by exploring the new pages and watching the video below:
Watch skills masterclass recordings
This semester the careers and employability service launched a new series of skills masterclasses. If you didn't manage to attend in person, all skills masterclasses are available to access and watch via the webinar recordings page in MyCareerHub.
Don't forget to check our webpages in January to see a full list of further in person and virtual skills masterclasses running next semester.
Open to all BU students to attend. The masterclasses are a great chance to network with employers and other students whilst developing your employability skills that will make you stand out when applying for placements and graduate jobs.
These sessions are co-delivered with industry speakers and academics to provide insight into different industries. Topics covered in our masterclasses are based on skills we know are in growing demand within industry and this semester we are focusing on: Professional, Sustainable, Digital and Human Futures.
Companies represented include: IBM, Innocent Drinks, Sea Sense, BCP Council, Dorset LEP, Global Brand Communications, Britbox, Tesco and Santander. You can find out more about the series and book onto any of our masterclasses by visiting: mycareerhub.bournemouth.ac.uk/students/events
Coming soon
In addition to the masterclasses and resources now available on Brightspace we are working on a structured skills programme, akin to the previous Global Talent Programme. More information will be available about this in the next year. We will be piloting the offer with specific programmes throughout next semester with the view to rolling out a complete extracurricular offer next academic year.
You can find more information about the Skills Development Programme on the BU website.