Bournemouth University hosted a Books & Stories Celebration for local school children to celebrate completing a 10-week reading scheme.
The celebration event which was held on Wednesday 9 February provided year six pupils with the opportunity to take part in a storytelling masterclass with BU academic Dee Hughes as part of a multi-school activity. The creative workshop was followed by a mini graduation where school children dressed up in gowns and were awarded with a prize.
The Book & Stories reading scheme was developed by BU to support children in local primary schools to improve their ability and confidence in reading through interactive sessions led by current BU students.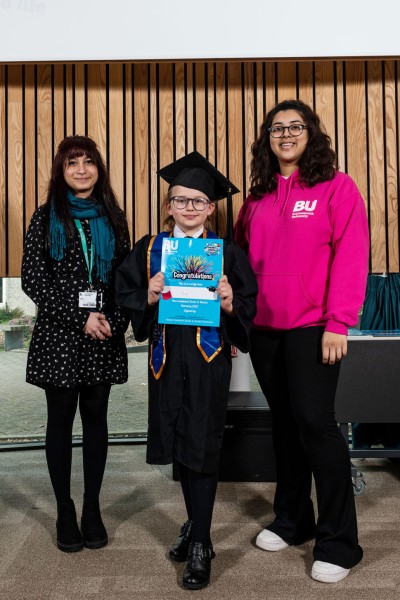 It aims to improve attitudes towards reading in the South of England and achieve demonstrable improvement in children's reading ability through BU Ambassadors leading one-hour weekly workshops in local primary schools.
Natalie Woodward, Schools Liaison Coordinator said, "I absolutely loved seeing the children receiving their certificates in their graduation caps and gowns, it is a privilege to see them feeling so proud after their hard work on the scheme across the last ten weeks.
"A highlight of the graduation event was the opportunity for students to take part in a creative writing workshop. Previous students of the Storyworks workshops have said that they believed in themselves more because of the day and enjoyed learning how to structure stories to improve their creative writing skills."
Bournemouth University is committed to supporting young people in local schools and colleges to introduce them to university life and support with attainment raising activity. If you would like to find out more about how BU could work with your school, please get in touch with [email protected].