Lewis-Manning Hospice Care hosted their inaugural educational lecture with the renowned palliative and end of life care specialist, Professor Bee Wee CBE. 
The popular event took place in BU's Bournemouth Gateway Building and was part of the hospice's 30th anniversary celebratory events programme which is taking place during 2022.
Professor Bee Wee, an expert in the field of palliative and end of life care,  is Consultant in Palliative Medicine at Oxford University Hospitals NHS Foundation Trust and Harris Manchester College, Oxford University National Clinical Director for Palliative and End of Life Care, NHS England and NHS Improvement.
Bee's subject title was 'Confronting Challenging Realities in Palliative and End of Life Care' and she held a captive audience as she spoke with passion to a packed lecture theatre, which included local hospice and palliative care teams, healthcare professionals, GPs and medical and clinical students.  She said that she hoped 'to stimulate thinking, be challenging but not overly provocative.' The lecture was followed by a Q & A session.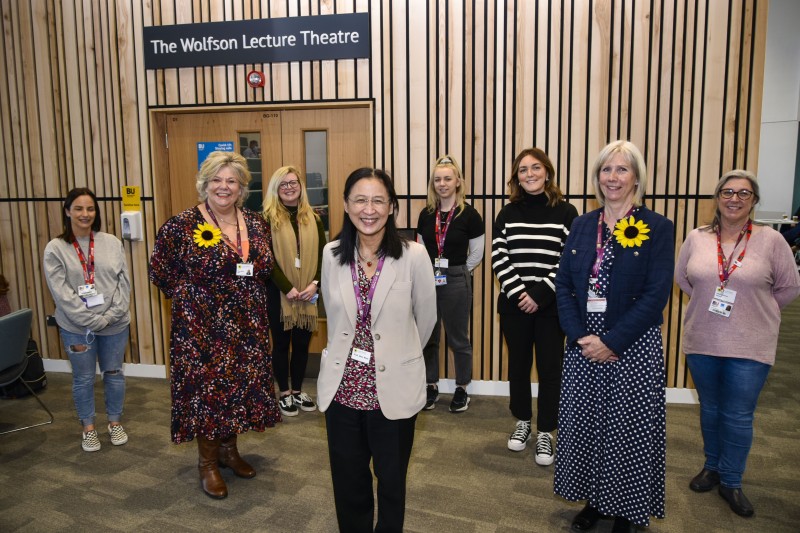 CEO Clare Gallie said, "We were absolutely thrilled to welcome Professor Bee Wee to Lewis-Manning and we're  incredibly pleased that her visit enabled further learning and development for students and healthcare professionals in Dorset. Bee posed some very thought provoking questions about palliative care which were very interesting and it was great to see the wonderful reactions and ideas these questions created. It was fantastic to see such a great and diverse audience and we already cannot wait for Bee's next visit."
Professor Bee Wee CBE commented, "I was delighted to accept the invitation from Lewis-Manning Hospice Care to become their Visiting Professor. This was my first 'in person' lecture since the pandemic and it's wonderful to be here.  I hope my words encouraged, inspired as well as build on what has already been achieved in improving end of life care in the local area, so that more people can live and die well."
Dr Sue Barron Senior Lecturer, Programme Lead for MSc Adult Nursing at Bournemouth University advised, "What a wonderful opportunity for our students hearing from a leading expert in her field. It was also a great networking opportunity for them all."