The Dorset Clinical Trials Unit (DCTU) has been officially launched at the Royal Bournemouth Hospital, providing a dedicated space for patients to take part in life-changing research.
Based within the trust's Dorset Clinical Research Centre, the DCTU provides a specialist environment for patients to see expert staff and access state of the art equipment, as well as providing an opportunity for staff at University Hospitals Dorset (UHD) to develop their research skills. The facility, funded through a £500k Getting Building Fund awarded by Dorset Local Enterprise Partnership (LEP), will support the development of research across the Dorset health system, helping to strengthen research evidence in priority areas of the National Institute for Health Research (NIHR).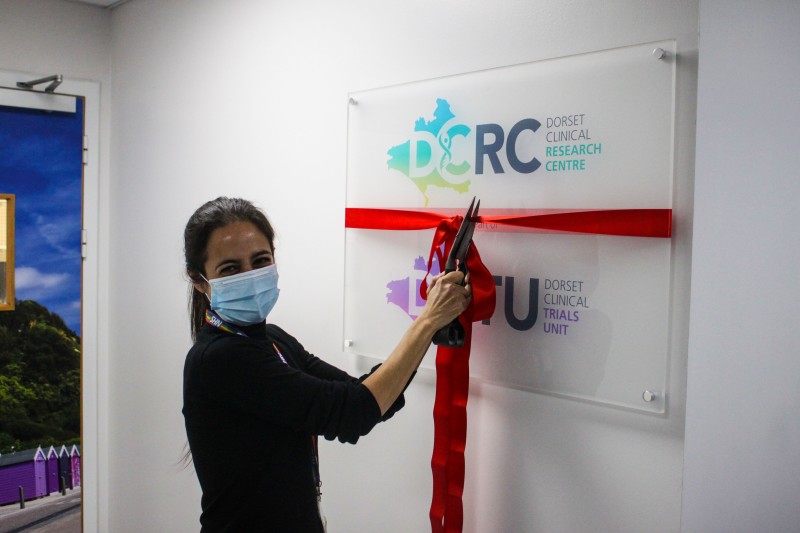 Research is fundamental to providing patients with the best possible treatments, as highlighted by the Covid-19 pandemic. This significant need for investment in improving health and care through research has culminated in the DCTU, the newest clinical trials unit in the country, with a wide remit to investigate various health conditions and treatment strategies. It will provide the opportunity for patients to be involved in high calibre NIHR and charity funded research studies in safe and comfortable surroundings.
The new facility will also give Dorset companies the chance to work with NHS trusts in order to evaluate and deliver health and medical innovations, clinical products and clinical practice enhancements.
Laura Purandare, Head of Research and Development at UHD, said: "We are so excited to be launching the DCTU and seeing the investment made by Dorset LEP come alive.
"With our local population of over 65's expected to grow by 22% by 2029, this investment in research will help us support people to 'age well'. The trials unit and research centre provides the environment and infrastructure for us to work closely with fellow health and social care providers in the region which will clearly benefit patients within the county and nationally."
By 2025 it is hoped the project will have created or safeguarded more than 40 jobs, assisted 14 institutions, and in terms of economic productivity, will have generated almost £3.4m gross value added for the local economy.
Cecilia Bufton, Chair at Dorset LEP, said: "This new unit provides a much-needed facility for the delivery of research-led, medical innovations, right here in Dorset. It will enable Dorset to retain skilled researchers and attract new talent to increase collaborative working, with the aim of building spin-outs and academic start-ups."
As part of its partnership with UHD, Bournemouth University (BU) will support the unit to strengthen research capability and patient insight. For example, the university's PIER (Public Involvement in Education and Research) Partnership will support with patient/carer experience. Additionally, BU will provide support from experts in healthcare statistics to help with clinical trial design, data interpretation and dissemination.
Professor Tim McIntyre-Bhatty, Deputy Vice-Chancellor at Bournemouth University, said: "We are delighted to continue to strengthen our relationship with UHD and the Dorset health community, securing another key milestone for medical science in the region that will benefit the people of Dorset as well as contribute to national research."
Professor Anand Pandyan, Executive Dean for the university's Faculty of Health and Social Sciences, added: "At BU, our research, education and practice is helping people live better and longer lives. We're pleased to be able to work with colleagues in the DCTU to further improve Dorset's excellent health and care provision, particularly by sharing our expertise in clinical study design, healthcare statistics, and public engagement."
You can find out more about research at UHD at www.uhd.nhs.uk/services/research-and-innovation