The Royal Television Society (RTS), in partnership with Bournemouth University, delivered another successful Meet the Professionals event last month. The annual event brings together a panel of media professionals to discuss current industry trends, moving image production and opportunities for career development.
This year, over 200 students from Bournemouth University, Southampton Solent, Arts University Bournemouth and Winchester Universities joined the event to hear from a panel of 13 professionals. Their roles ranged from entry level positions as recent graduates, such as Archive Researcher, Edit Assistant and Production Coordinators to roles with managerial responsibilities such as Video and Technical Supervisors and Project Managers, as well as more Senior level positions as Development Executives.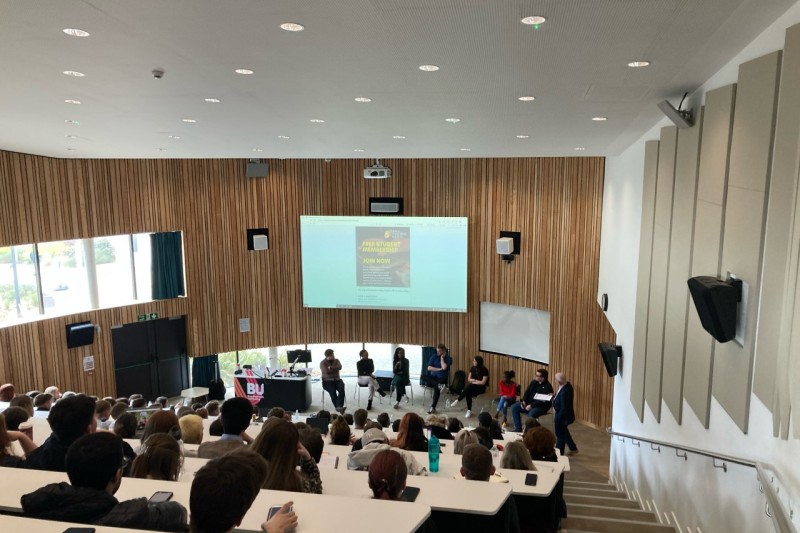 On sharing advice for aspiring graduate students, Alison Martin, Development Executive at Topical Television, said: "There are so many jobs in the industry, and they all have their own specific worth… it's important to know what you want to do." Her credits include The One Show, Watchdog, The Martin Lewis Money Show and Katie Price – My Crazy Life.
Several BU alumni returned for the event, including Jemma Wood (Archive Researcher at ITV), Rowan Blofeld (Freelance Assistant Production Coordinator), Nicola Matiwone (Freelance Editor), Precious Mahaga (Head of Music at Agile Films) and Sadie Williams (Production Manager at the MS Society). All emphasised the value of gaining work experience and making the most of networking opportunities during your studies, be it during a placement year or working with fellow students. Rowan said: "I used to find the concept of networking really daunting, but it's just about making friends with people".
Following the panel discussions, students were invited to network with the professionals. Gordon Cooper of the Royal Television Society (RTS) and event host said: "Networking plays such a big role in the development of media careers and it was great to see how much the students valued the opportunity, once again, to talk openly and enthusiastically with so many professionals in one place."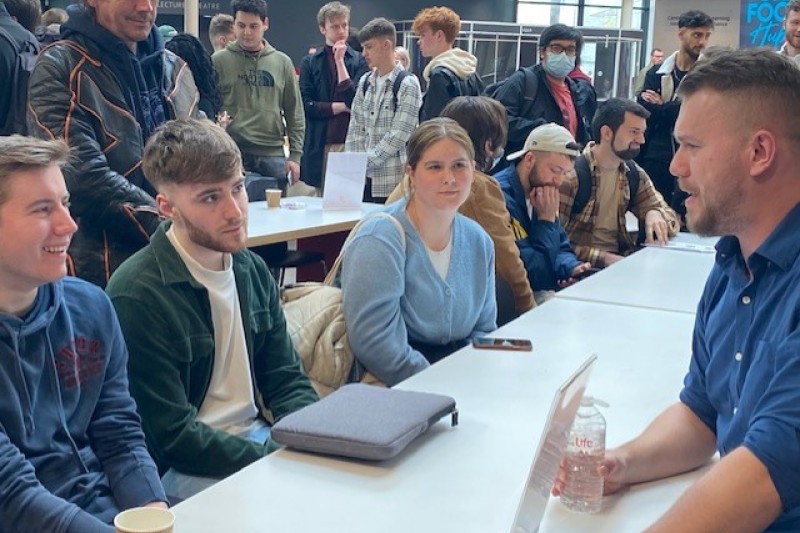 Commenting on the event, Stephanie Farmer, Chair of the RTS Southern Committee and Executive Producer of RedBalloon Productions at Bournemouth University, said: "What a wonderful buzz we had at the event. We really appreciated BU hosting this great event again. The RTS works hard to develop these kind of opportunities for students and we know it helps them develop their communication skills and learn first-hand about what it's like to get your first job, and explore career opportunities they had perhaps never thought of. It's also great for all of us to re-connect with graduates who have gone on to be successful in their media careers. One student told me he thought the event was phenomenal! My thanks also to the professionals who give us their precious time and knowledge."
Discover the range of media production courses available at BU.