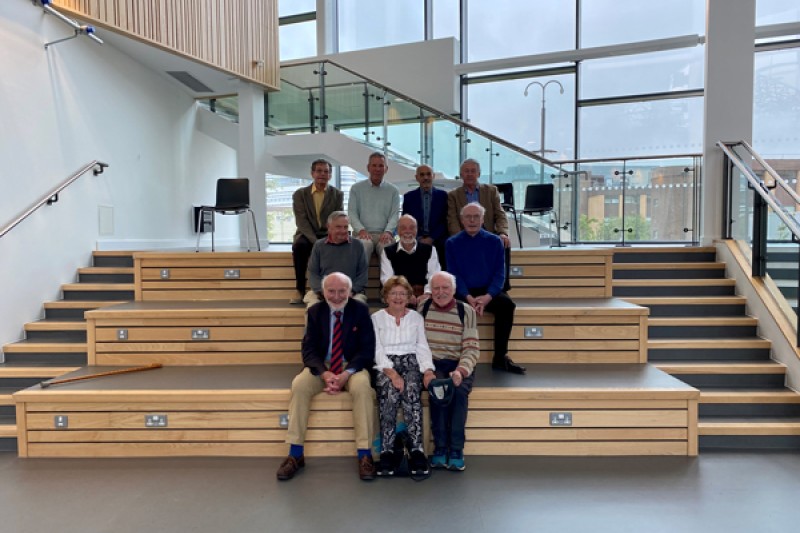 A group of alumni from the late 1960s and early 70s enjoyed a reunion event at BU's Talbot Campus this month, on a site they campaigned to develop in their student days.
The group of 10, now in their 70s, and including two former Presidents of the Students' Union, took the opportunity to reminisce during a visit to BU earlier this month (June), where they also toured some of the university's newest facilities. The visit coincided with our 30-year anniversary celebrations – marking three decades since BU was granted university status.
Back in 1967, the same group were part of a well-documented student protest against the standard of accommodation and facilities at the then Bournemouth College of Technology and Commerce. The protest included a march on Bournemouth Town Hall to persuade councillors to accept a government grant to compulsorily purchase land at Wallisdown to build a new polytechnic college.
Peter White, who organised the reunion, said: "Unfortunately our efforts at that time were unsuccessful and councillors voted against the move. We joked that the elderly councillors in the Council Chamber, who had to stand to show which way they were voting, took so long to stand up and sit down that they may have inadvertently voted in favour.
"Such was our irreverent perspective as the youth of the day! While it was fun to cause a bit of mayhem by marching and holding up the traffic along the way – made worse by the fact one of our number was on crutches – it was driven by a desire to create a better deal for the students who would come after us."
Peter, who like many others was studying for a University of London External Degree, recalls taking classes in a collection of buildings spread across Christchurch, Bournemouth and Poole, including converted hotels which still had toilets and showers in the corners of the classrooms. Despite the standard of accommodation, Peter and his classmates made the most of their student days.
He said: "We had a blast. What a great place to spend your student years, with the beach on your doorstep. Come the summer, there was lots of seasonal work. I got a job selling ice creams while friends worked on the buses and in bars and hotels. As a student union, we also made regular attempts to break world records to create a bit of publicity. While we didn't quite manage one attempt for the most handshakes in 24 hours, we did secure one for the longest-running game of table tennis, at 130 hours."
Having returned to BU this year, Peter and his former classmates were taken aback by the changes. He said: "The facilities now are second to none and there was a wonderful sense of space on the campus. While the university has grown beyond recognition, you could still sense the same community spirit that we remember so fondly."