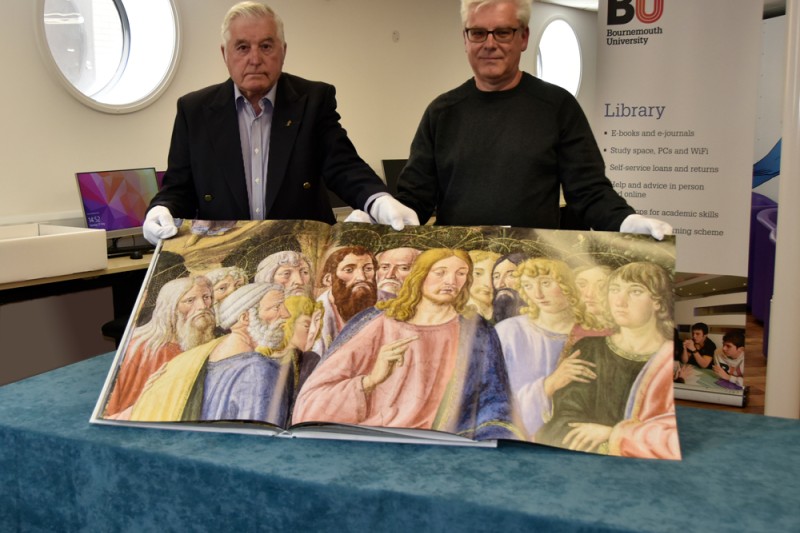 A remarkable set of rare and valuable books on the Sistine Chapel have been donated to Bournemouth University's Sir Michael Cobham Library on Talbot Campus.  
The beautiful collection of three books, valued at approximately £16,000, were donated by Christchurch resident Mr Jack Smith on Tuesday, May 31. The books contain actual size photographs of Michelangelo, Botticelli and other Renaissance artists' frescoes, and works that adorn the ceiling and walls of the Sistine Chapel in the Vatican.  
Jack (pictured with his son, Phillip) purchased the books as a memento to his beloved late wife, Jill. Jill spent her entire working life as a librarian for several local libraries and a spell working at a military library in New Territories Sek Kong in the 1970s. Jack has fond memories of the holiday they shared in Italy, where they viewed the Sistine Chapel. Jack wanted the local community of Bournemouth to benefit from Jill's passion for books by donating them to the university's collection. He said: "My wife loved books and when I saw an advert for them in the newspaper, I knew I had to buy them. I decided to donate them to Bournemouth University, as this is where my son studied in the early 1980s." 
As part of the Vatican's ongoing conservation work, a limited number of only 600 English language editions have been produced for sale. Some of the books were gifted to museums and the remainder were offered for sale.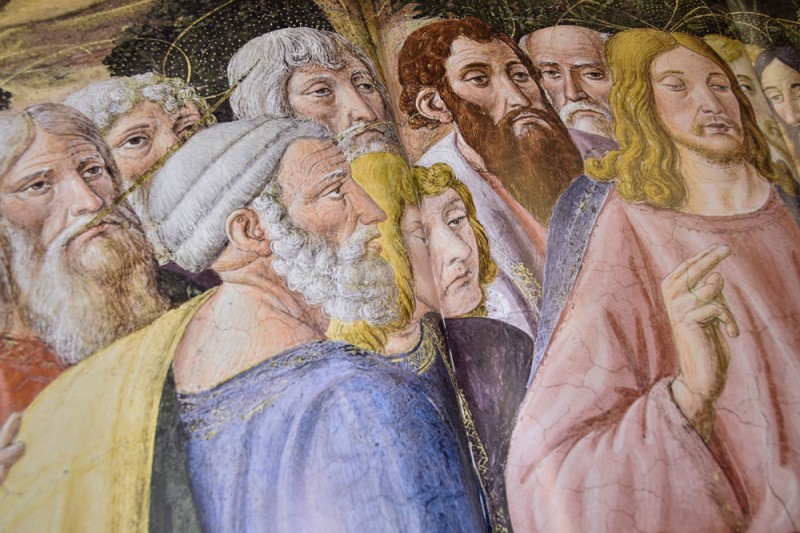 The large, 24 x 17-inch, 822-page volumes employed ultra-high resolution digital photography to capture every centimetre of the masterworks. The photographs were taken by a team of photographers who produced 270,000 digital images over the course of 67 consecutive nights at the Chapel, while it was closed to the public. The images were then colour-matched against the actual frescoes and seamed together using imaging software to produce precision reproductions, allowing people to see the works up close. The result allows the reader to see clear, sharp images along with accurate colours and textures that show individual brush strokes. 
Bournemouth University's Head of Library Services, Chris Fowler, whose team took delivery of the donated books, said: "The gift of the Sistine Chapel Trilogy to Bournemouth University Library makes a significant contribution to our Archives and Special Collections. They are unique and very beautiful. We may be the only academic library outside of the Royal Collection to have a set of these volumes. We are honoured to receive such a significant and special gift, from Mr Smith, in memory of his late wife, Jill." 
Access to Bournemouth University Library Archives and Special Collections, is by appointment only and visitors wanting to study the Sistine Chapel books should contact [email protected] to arrange an appointment. 
For further information about our university library services, please get in touch with BU's library enquiries team.