Five Product Design students from Bournemouth University have won nine awards between them at the New Designers 2022 show in London.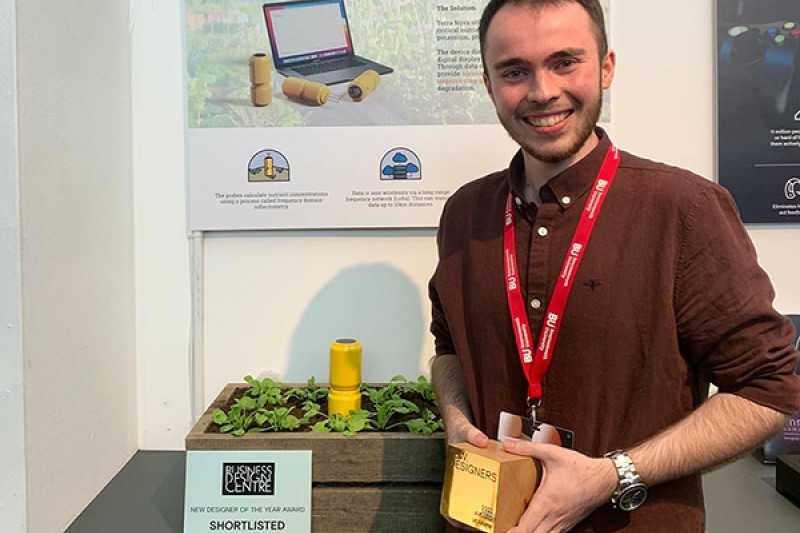 Ryan won the Best New Product Designer Award
The students were recognised for designing new products to address real world problems around sustainability, helping people live better and supporting marginalised communities.
They were among 2500 talented design graduates from around the country who exhibited their products at New Designers, which was held in the Business Design Centre in Islington between 29th June and 6th July.
Ryan Waterhouse won the Best New Product Designer Award - the highest prize awarded at the show - for his product Terra Nova which aims to improve the world's soil quality through better monitoring of nutrients.
The world grows 90% of its food in topsoil. The current rate at which nutrients degrade suggest that topsoil will run out in just 60 years, posing a significant threat to food production.
The technology in Terra Nova measures the critical nutrients within topsoil and gives data to users through a digital display and an app. It can then provide accurate recommendations to improve crop quality and reduce degradation.
After receiving his award, he said "I am happy my project has received recognition because the issue of nutritional soil degradation is a real problem that could see worrying depletion in topsoil if it is not addressed.
"There are so many amazing projects with amazing designers to accompany them here at New Designers. I'm honoured to be awarded such a prestigious award."
Ryan's supervisor, Gemma Bullock, added, "Topsoil degradation should be of concern to everyone. Unless we change how we manage our soil, future generations will be unable to produce crops of adequate nutritional quality and in sufficient quantities to sustain the population. 
"His product enables small holders, allotment owners, gardeners and even school children to monitor their land, treat it appropriately and maximise yield.  
"He is a dedicated and talented designer whose final project has the potential to make a difference to a problem which affects us all."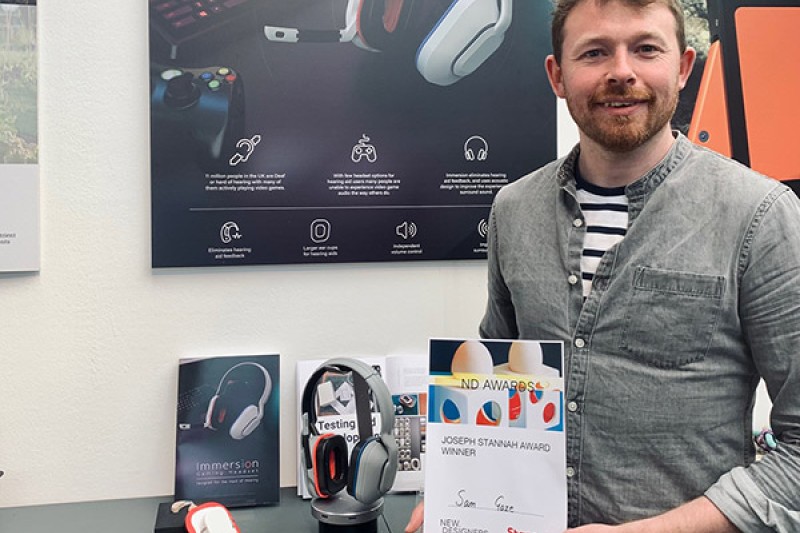 Also among the winners was Sam Gaze who collected the Joseph Stannah Award, which is given to the most innovative and inclusive design that promotes independent living.
He has designed an Immersion Gaming Headset which tackles the challenge of hearing aid feedback when using headphones and headsets. His design allows the user to independently change volume in either ear and improve the perception and experience of surrounding sound.
Sam said, "There are so many amazing products here. It is a bit overwhelming and it's a massive honour to have been given this award."
There were double successes for Angela Piazza and Joe Samuels who both received 'Anglepoise Loves' commendations for products with sustainability at their hearts. Angela also won the Design District award for outstanding craftsmanship, thought-provoking design with environmental and sustainability impact too; whilst Joe collected the Lakeland prize for a product that must solve a problem experienced in the home.
Joe Samuels and Sam Gaze, alongside Alex Baker were also awwarded the Innovate UK award at the exhibition.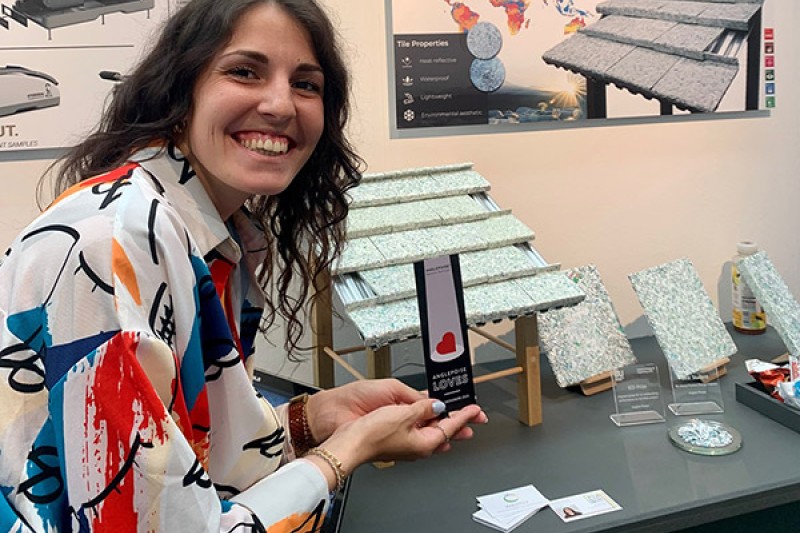 Angela's product takes non-recyclable plastic waste, which is shredded then made into reusable roof tiles. These tiles could provide heat reflective roofs for communities in India, as well as reduce landfill waste and increase the income of families living in deprived houses who collect waste from dumpsites.
She said, "My experience at New Designers 2022 has been amazing! I had the chance to meet Anglepoise managers who loved my project! I had the opportunity to talk to many important and famous designers. Super-exciting!"
Her supervisor, Dr Yonghun Lim, added, "This is such a thoughtful, circular economy project. Angela has considered not only the current environmental issues but also human behaviour, societal matters, and economic factors. In this project, she has pointed the way we should go toward a sustainable and inclusive future. This project meets the UN Sustainable Development Goals."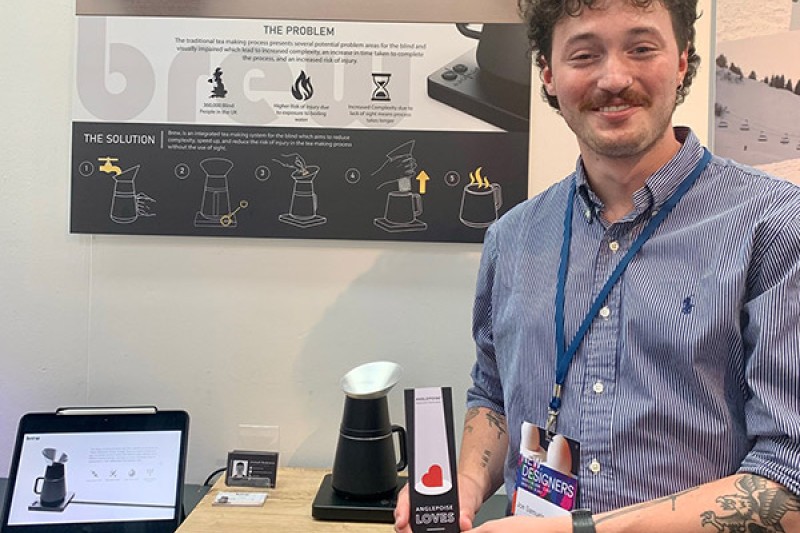 Joe's awards were for his product Brew, an integrated system for blind and partially sighted people which aims to reduce complexity, speed up, and reduce the risk of injury in making a cup of tea without the use of sight.
Joe said, "Having the opportunity to be amongst future design creatives is an experience I will never forget. It was great to get recognition for Brew."
This was Bournemouth University's most successful year at New Designers, which took place after its Festival and Design and Engineering where final year students from across the Engineering and Design Courses demonstrated their solutions to real world problems.