Bournemouth University graduate Oliver McManus won the Student Journalist of the Year award at the IRN Awards 2022.
The Awards celebrate radio and audio journalism and Ollie won the BJTC Student Journalism of the Year award for his piece highlighting the growth in use of mental health services at universities.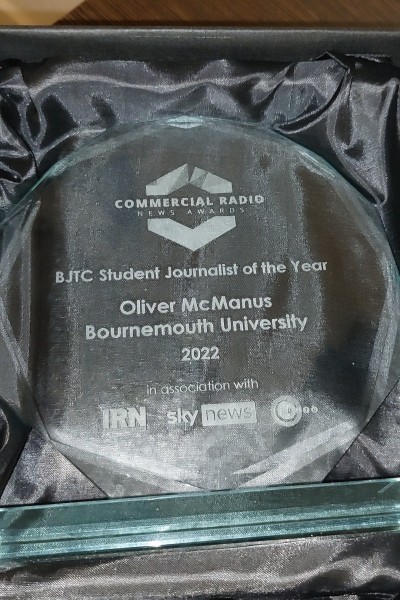 The judges said of Ollie's piece that it was an "excellent use of exclusively sourced data that shines a light on the huge numbers of students accessing mental health support. Oliver's intelligent scripting is spot on but it's his powerful interviews that lay bare the sheer scale of the issue. A really good pay off too that looks to the future – and whilst acknowledging the importance of the data, it's the real-life stories that in Oliver's words, shape the conversation moving forward."
Ollie studied Multimedia Journalism at Bournemouth University, before joining the Dorset Echo as a Digital Reporter.
Ollie said of his win, "It feels amazing to have been recognised by IRN as their Student Journalist of the Year. My documentary investigating university mental health services is by far my proudest piece of work and it's super rewarding to have that recognised nationally. A big thank you to everyone in the Faculty of Media and Communication and, particularly, my supervisors Duncan Sleightholme, Jason Hallett and David Mascord."
Ollie's winning piece along with background information can be found at https://mcmanusgoliver.wixsite.com/breakingpoint-mmp and the IRN Award winners can be viewed in full at https://www.irnawards.co.uk/2022-winners.html