New buses have appeared on the streets of Dorset, providing vital services to the town's universities and the local community. 
Bournemouth University (BU) and Arts University Bournemouth (AUB) are continuing their partnership with Morebus with a fleet of new buses. 
The Unibus service offers students, staff and the local community routes from Talbot Campus through to Lansdowne and onto Poole and Southbourne.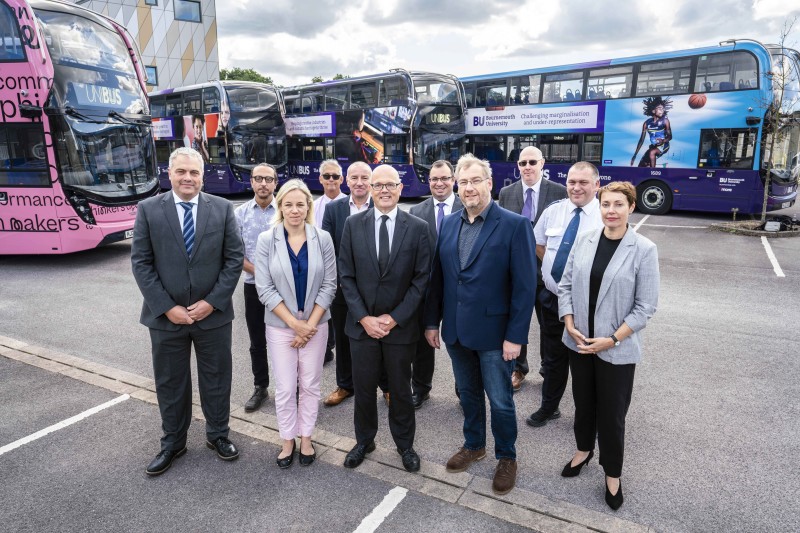 BU's buses highlight the key strengths of the university and the stories and people at the heart of BU. This includes BU's commitment to helping people live better for longer; helping to protect and preserve a sustainable environment; helping to prepare for and recover from crises, challenging marginalisation, misinformation and under-representation, helping creative industries and cultural heritage to thrive, and acting as a catalyst for growth in the region. 
Information about the projects featured, including BU's Orthopaedic Research Institute and the university's work with artificial reefs in Poole Harbour can be explored by visiting Our BU Story webpages.
Jim Andrews, Chief Operating Officer at Bournemouth University, said, "The Unibus service has provided a sustainable travel service for our staff and students, and the whole local community for many years. We are proud to be a part of our region, and this significant investment in new buses is a part of our commitment to sustainability.  
"The messages on the side share some of BU's strengths and how we are supporting our community locally, nationally and internationally through our academic activity. Our hope is that the next time you spot a bus, you take the time to have a look on our website and share our pride in some of the brilliant activities taking place in our region."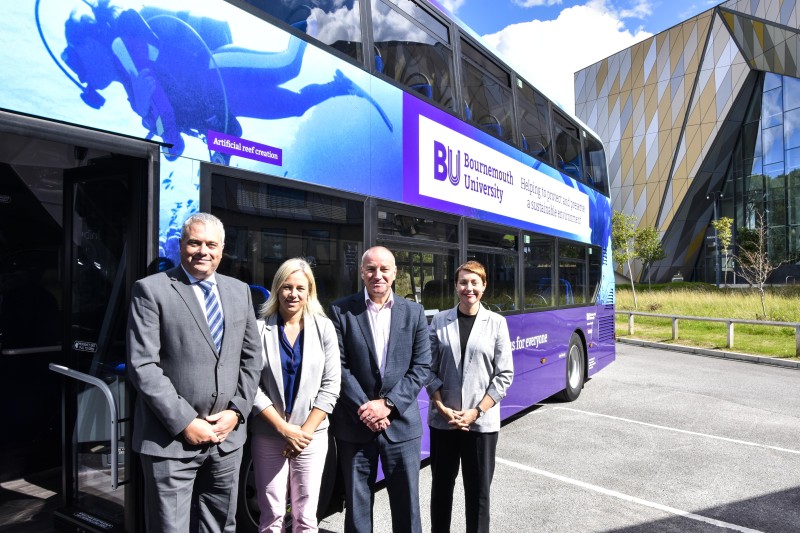 Andrew Wickham Morebus Managing Director, said: "We're very proud of our continued partnership with Bournemouth University and Arts University Bournemouth, and of this latest investment in new buses to operate the Unibus route.  
 "I hope those who travel with us will agree that these impressive new state-of-the-art ADL Enviro 400 double decker buses - with USB chargers for smart devices, free WiFi and the very latest low emissions Euro 6 engine - offer a superior level of comfort.  
 "The aim is to make sustainable transport a more attractive proposition, in order to entice people out of their cars. One full double decker bus can take up to 75 cars off the road - and this investment is a huge step in that direction, as there will now be 15 such vehicles in the Unibus fleet." 
Lauren Duff, Travel and Transport Manager at Bournemouth University, said "The Unibus service has been a vital part of Bournemouth University's Travel Plan for a number of years and the introduction of the new fleet of Euro 6 buses is the next step in reducing the impact of travel activities while continuing to support public transport accessibility in the community. Prior to the pandemic, the service delivered over one million passenger journeys each year and I am confident we will surpass this again this year. The new fleet looks great and I am excited for our new and returning students, as well as staff and the public, to experience the new buses and their features" 
The local community are also able to offer the bus service, with information about routes and times available on the Unibus website: https://www.unibuses.co.uk/