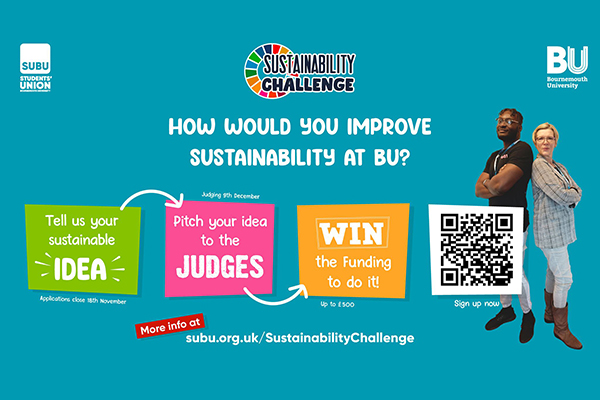 Do you have a fantastic sustainable idea that could be incorporated into every day life on campus? Then the Sustainability Challenge is for you!
The Sustainability Challenge is an opportunity to:
inspire and help Bournemouth University become more environmentally sustainable by creating an idea as an individual or as part of a team and presenting your idea to a panel of judges
work across disciplines with students from other faculties or departments, and create an interdisciplinary and innovative idea
gain new skills, new contacts and impress future employers
an opportunity to win up to £500 funding to make your idea a reality.
What is the Challenge?
In the Sustainability Challenge, you will work in a team or individually to create a business case for an idea you have that could make BU more environmentally-sustainable. You will need to research your idea and show how it could be incorporated into Bournemouth University life. Think outside the box! It can be based on any area of Bournemouth University from food to travel, to accommodation, retail outlets, your course and more!
Join our launch event on Wednesday 19 October, where we will give you everything you need to develop your idea. You will work on your idea so it's ready to present at the final on 9 December to our panel of judges who will choose the best idea to win up to £500 funding to make it into a reality!
How do I sign up?
Registration is open and closes 18 November; click here to complete your application.
I have more questions!
You can find more information about the Sustainability Challenge on the SUBU website and Facebook page, or get in touch with the BU Sustainability Team.