International students from Bournemouth University visited the Vitality Stadium to interview AFC Bournemouth midfielder Emiliano Marcondes ahead of the BU Big Match.
The students, who have moved to the UK to study, got the chance to talk to Emiliano about how he found the culture when he first moved to the UK and achieving his dream of playing in the Premier League.
BU students spoke to Emiliano as a part of activity to celebrate the BU Big Match. BU is the official higher education partner of AFC Bournemouth – and each year, the partnership is celebrated during the BU Big Match – which takes place on Saturday 12 November vs Everton. The theme of this year's BU Big Match is international, and is the last Premier League game for the Cherries before the 2022 World Cup.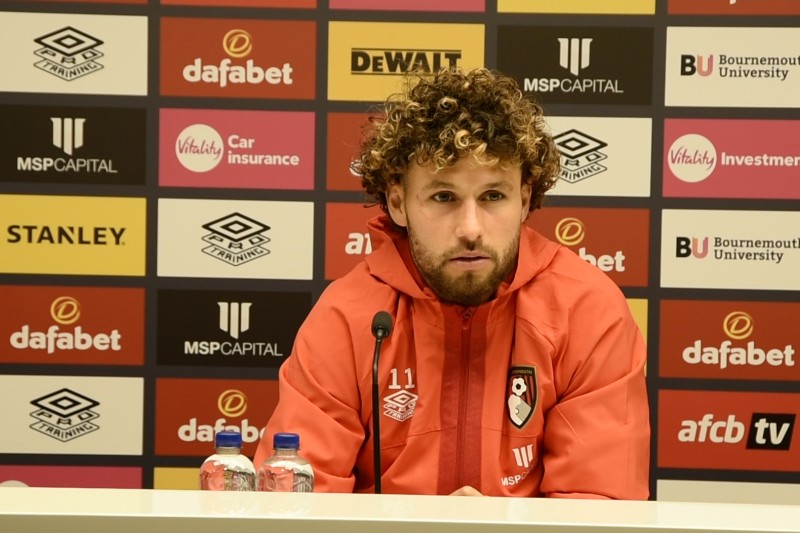 Emiliano was able to offer advice to students who have moved to Bournemouth about settling in the area, and shared what he misses from his native Denmark since moving to the UK.
Speaking to the students, he said, "It was important for me to go out and experience the country, and experience the culture, what people do, and all the things I would normally not do just to see and feel the country and the values of the people, what things they like."
BU's partnership with AFC Bournemouth is now in its tenth year, and BU gives a particular focus on supporting the girls' and women's teams as their Principal Partner. Students benefit from working closely with staff and players at the Club, with opportunities for students to engage in supporting sport science, creating media, supporting the commercial team, working in the press office, and working with the Club's Community Sports Trust on a variety of projects that support people in our local area.   
BU's Chief Operating Officer Jim Andrews said, "We're so proud to continue our support for our local football team into a tenth year as they play in the Premier League once again. The Club play such a positive role in the community, and we're delighted that we can work with them to provide opportunities for our students, support the team on and off the field, and work for the benefit of the local community." 
For more information about Bournemouth University's partnership with AFC Bournemouth, visit https://www.bournemouth.ac.uk/collaborate/afc-bournemouth