From placements at Rolls-Royce, Dorset Mind and Hotel Miramar to students managing events, fundraising, growing social media followings, sourcing new clients and increasing revenue - Bournemouth University Business School students had a lot to celebrate at the 2022 Employability Awards.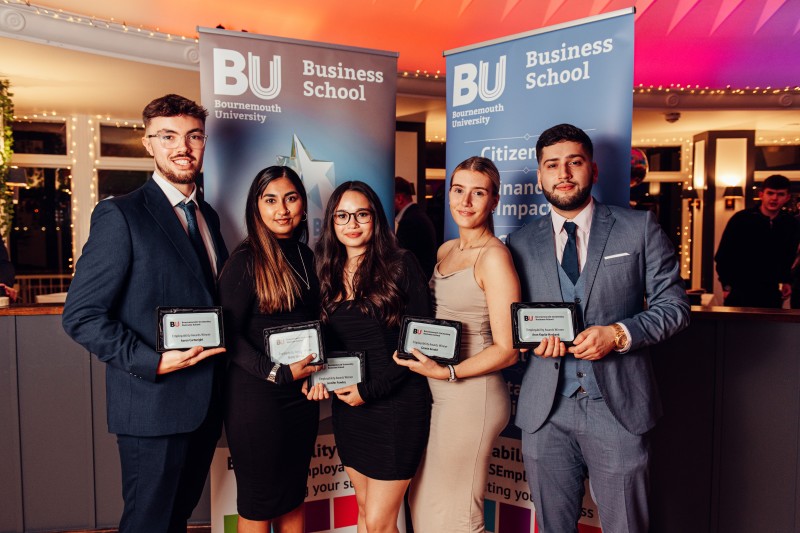 The Employability Awards recognise and celebrate the range of achievements that our Business School students accomplish during their placement year. Six award categories were created, each focusing on areas the students can often make a significant impact on the organisation. 
Associate Dean of Student Experience for the Business School, Philip Ryland said: "We were delighted to celebrate the successes of our students whilst on placement at our annual Business School Employability Awards ceremony this evening. The range and standard of work that our students have undertaken whilst on placement is truly incredible and we are so proud of their achievements at what remains a challenging time for them in the various sectors we support." 
The 2022 awards took place at Key West Restaurant, at the end of Bournemouth Pier on 9 November. While each award recognises several winners, at the ceremony one overall winner was presented the award for each of the following categories:    
Citizenship Award: James King, BA (Hons) Business Studies with Operations and Project Management student 
Financial Impact Award: Harrison Pavia, BA (Hons) Business Studies with Enterprise 
Global Engagement Award: Robyn Hancock, BA (Hons) International Hospitality Management student 
Innovation Award: Harry Green, BA (Hons) Business Studies with Economics 
Outstanding Contribution Award: Sophie Tickle, BA (Hons) Events Management student 
Service Excellence Award: Robert Statham, BSc (Hons) Sports Psychology & Coaching Sciences student 
Winner of the Outstanding Contribution Award, Sophie Tickle, said: "I feel incredibly privileged that the Bournemouth University Business School creates opportunities for students to showcase their achievements during their placements. It allows students to shine individually and receive the recognition they deserve for their hard-work and dedication during their time in industry. I'm beyond proud to have been selected as this year's Outstanding Contribution winner and I would actively encourage all placement students to apply for next year's Employability awards!"  
The Employability Awards are part of the Employability Programme, a unique programme for Business School students, designed to develop their professional and employability skills through workshops and events.  
Joanna Milner, Student and Industry Engagement Coordinator for the Business School said: "I am so privileged to manage the Employability Awards for the Business School, it's honestly the highlight of my year to read all the amazing applications and to celebrate with our students. Each year I am truly amazed to read about the incredible things they achieve whilst on placement – it makes me very #BUProud! The vibe tonight was fantastic, and everyone went home with a huge smile on their face."