Jo Salter, who became the Royal Air Force's first female fast-jet pilot, has been awarded an Honorary Doctorate by Bournemouth University, in recognition of her efforts to promote inclusivity and motivate others.
"The day that I received the call offering me an honorary doctorate was just amazing," said Jo. "I was born in Bournemouth, I had holidays in Bournemouth as a child and I've always wanted to do my doctorate here so to receive that phone call was one of the most special days of my life."
Jo joined the RAF's University Cadetship scheme at the age of 18 - in the first year it was opened to women. Having qualified as an Engineering Officer, a change in law enabled women to become pilots for the first time and Jo began her flight training. She later qualified as a fast-jet pilot and became the first woman to gain combat-ready status.
Having been involved in NATO exercises around the world, including supporting the 'no-fly zone' over Iraq in the mid-1990s, she went on to become an RAF flight instructor. Today she leads thousands of air cadets on flights as an Honorary Group Captain and continues to use her experiences to motivate others as an author and public speaker.
In an already high-pressure role, Jo recalls the added stresses of being one of only a handful of women to be flying at this level. While she was confident in her own abilities and readiness for the job, she concedes that it sometimes felt some of the air crew were not quite ready for her.
Her experiences in the male-dominated world of the RAF had made her passionate about inclusivity; in her current role as Director with PwC, Jo is helping to shape the organisation's future leaders.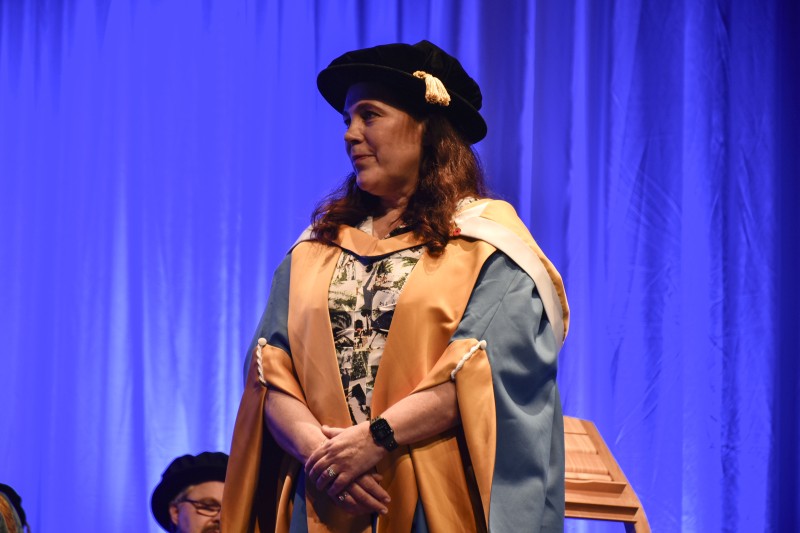 "Today I feel especially honoured that I am receiving my honourary doctorate amongst graduates of such an important area as social sciences and of the health sector," Jo Continued. "These are our future nurses, our future practitioners in a clinical setting. And as they embark upon their lives it's about celebrating today and just realising there are going to be ups and downs but what they are doing has so much purpose and is so important for our whole country and I am honoured to be a part of it."
Professor John Vinney, Vice-Chancellor of Bournemouth University, said "Jo had an awe-inspiring career in the RAF, and her achievements are even more incredible given the additional challenges that must have come from being one of so few women pilots. Today she draws on all her experiences of overcoming obstacles to motivate others and she will be an inspiration to our students and graduates."
Jo received her honorary Doctor of Arts degree and the university's graduation ceremony on Friday 11th November.