A website run by MA Multimedia Journalism students at Bournemouth University was named Best Online News Site at the Broadcast Journalism Training Council (BJTC) Awards at the Financial Times in London.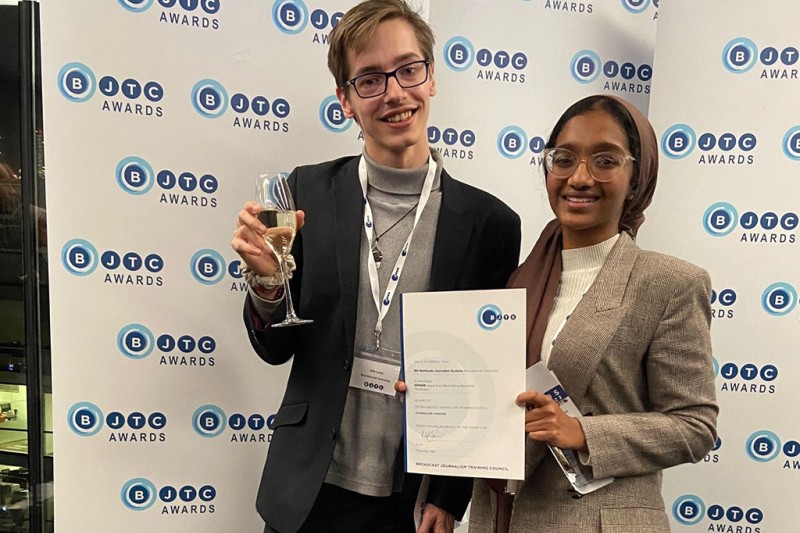 Fatima Farha and Alfie Lumb from the BU team
Judges praised The Breaker for its diverse range of contributors and topics as well as its contemporary and clear layout. They highlighted stories including interviews with Ukraine's youngest MP and the plight of residents living near an abortion clinic in Bournemouth.
Accepting the award on behalf of his classmates, student Alfie Lumb said, "We're so proud of the work that everyone put into the website, particularly when covering important issues such as Ukraine. It wasn't easy. We spent a huge amount of time working on these stories, but we think the results speak for themselves."
MA Multimedia Journalism student Fatima Farha said, "We have a great range of students in our class including graduates from Nigeria, India, Indonesia and across the UK. Having these different perspectives allows us to produce better journalism. It's rewarding to work in such a diverse newsroom."
MA Multimedia Journalism is accredited by the Broadcast Journalism Training Council, which brings together broadcast employers in the UK and representatives of accredited courses to ensure students receive the highest professional standards of journalism training.
Programme Leader, Mike Sunderland, said: "We're extremely proud of our students and they thoroughly deserve this recognition. The journalism they have produced is thoughtful, diverse and creative.
"I'm very grateful for our fantastic teaching team. This award, as well as our BJTC accreditation, are confirmation that any student thinking of joining the programme can be confident they will acquire the skills desired by the biggest names in the industry."