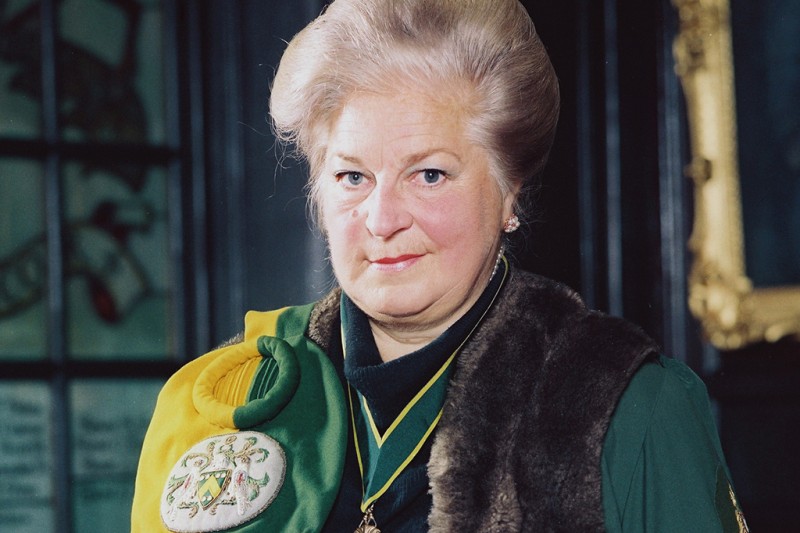 Anne Silk was a former clinician who developed an international contact lens consultancy. Since her retirement, she forged a second career in neuroscience and the environment, producing a wide range of research outputs and supporting innovative scientific research.
In 2014 her contribution to the advancement of scientific knowledge led to her being awarded an Honorary Doctor of Science degree by BU.
Anne showed exceptional ability as a child, but circumstances ruled out a university education. Following a family tradition, she went into advertising and worked for Selfridges. This, she says, was "fun - but not a lifelong career". She trained and practised in optics but became "bored to death with specs" and turned to contact lenses. At the time these were a new and exclusive development, and Anne soon became a director of one of only four companies dispensing them.
In the mid-1970s Anne set up her own practice with an international clientele and consulting rooms in London's Wimpole Street. From here the scientific enquiries began. Anne became absorbed by the study of eye conditions and went on to explore a range of health-related external phenomena such as pulsed microwave beams, asking questions that others – at least in the UK – were not. These scientific interests led to new relationships with government, professional bodies and industry, and became so consuming that Anne retired from her optical practice to pursue her research agenda, which took her from optics, via physics, into neurosciences.
In each of these areas Anne made a notable international mark through publications and conference papers. Having recognised that many of her patients with atypical myopia were computer users, Anne was at the forefront of research which identified a link between close exposure to cathode ray tubes and certain ocular conditions. Anne's extraordinary second career took her into other health-related fields such as Motor Neurone Disease and epidemiology. These interests brought her into contact, and into a fruitful working relationship, with BU's School of Health and Social Sciences, and together they engaged in joint research projects.
Bournemouth University Professor Colin Pritchard, who collaborated with Anne on a number of research publications, said: "I first met Anne in 2004 when she expressed an interest in rising neurological mortality rates. It was obvious that she had a curious mind, and I was honoured to collaborate with her, as she had much to teach about physics and neurology. Indeed, her ability to `think outside the box' was reflected in the first-ever study of Acute Flaccid Myelitis, virtually a new disorder for children, whose causes might well be influenced by exposure to low-level prolonged electromagnetism. Amongst all her honours, she was delighted to be involved with BU and the Faculty of Health & Social Sciences, which reflects her cross-disciplinary curiosity. She will be truly missed by her collaborators."
Anne's achievements have been widely recognised. She was elected a Fellow of the Royal Society of Medicine (a most unusual accolade for a non-medic), was elected President of the Association of Dispensing Opticians, sat on the General Optical Council, became a Member of the Institute of Physics and the US Bioelectromagnetics Society. Among other high-profile national roles, she served as Chair of the NHS Dendron Neuro Research Steering Group at Oxford, and as a member of the Department of Health SAGE II Science Forum. Her contribution in the area of electromagnetism and its impact on human health led to her being co-opted onto the UK's Health Protection Agency. Anne also made history as the first woman in 360 years to become Master of the City Livery Company, The Worshipful Company of Spectacle Makers, in 1990.
Anne passed away towards the end of 2022, leaving a lasting legacy through her body of work.