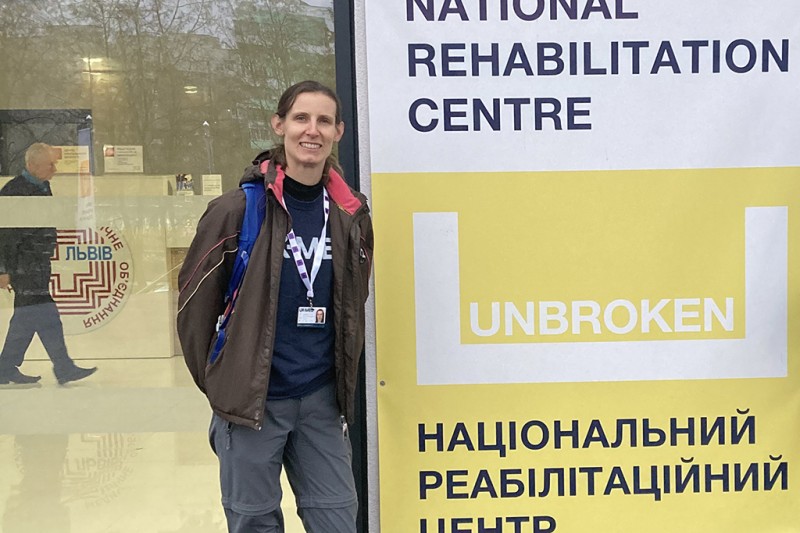 Masters student in Advanced Clinical Practice, Lauren Eve, has recently returned from treating wounded soldiers and civilians in Ukraine.
Lauren spent three weeks in the city of Lviv at the National Rehabilitation Centre, whilst volunteering as a physiotherapist for medical aid charity UK Med.
On top of challenges caused by the number of patients coming into the frontline hospital, Lauren had to contend with air raid sirens and risk of power and water loss every day. The weather also caused problems with temperatures remaining below freezing most days and snow and ice adding to the logistical difficulties, especially during blackouts.
"I have quite a lot of experience working in challenging situations and environments including South Sudan, Iraqi Kurdistan and Bolivia," said Lauren. "I knew I had the skills to help and wanted to do my bit to help the Ukrainians in need," she added.
As well as treating patients, Lauren also provided training to physiotherapy students in the region. 
"Rehabilitation is fairly new in comparison to the UK so much of my role involved educating local staff and students regarding the definition and benefits of rehabilitation," she explained.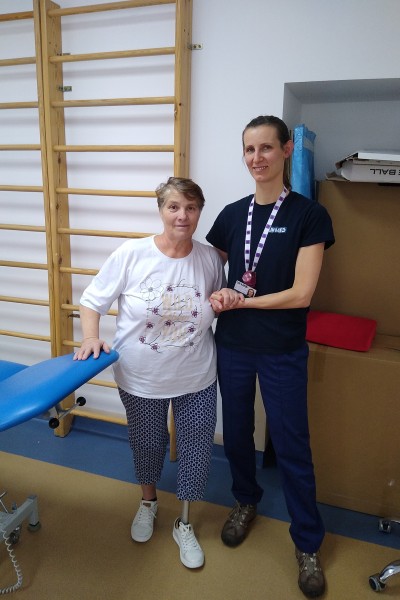 Lauren and Marta
Amongst the many patients she helped was Marta, a lady in her sixties from the Donetsk region. Marta's leg needed to be amputated following an explosion which caused a nearby building to collapse as she was walking past. Lauren worked with Marta after she received her newly fitted prosthetic limb, allowing her to regain her independence.
The spirit showed by Marta was amongst the many inspirational moments Lauren came across during her time there.
"Not once did I hear anybody complain. All the patients I worked with were keen to get back their independence and continue to support their country in any way they could. The local staff are incredible in how they keep going day after day despite the relentless number of casualties," she said.
Although she is now back in the UK, Lauren is still hoping to return to help people in Ukraine again, when her studies allow. "The experience has helped me to develop many clinical and non-clinical skills which are beneficial to both my career and studies," she concluded.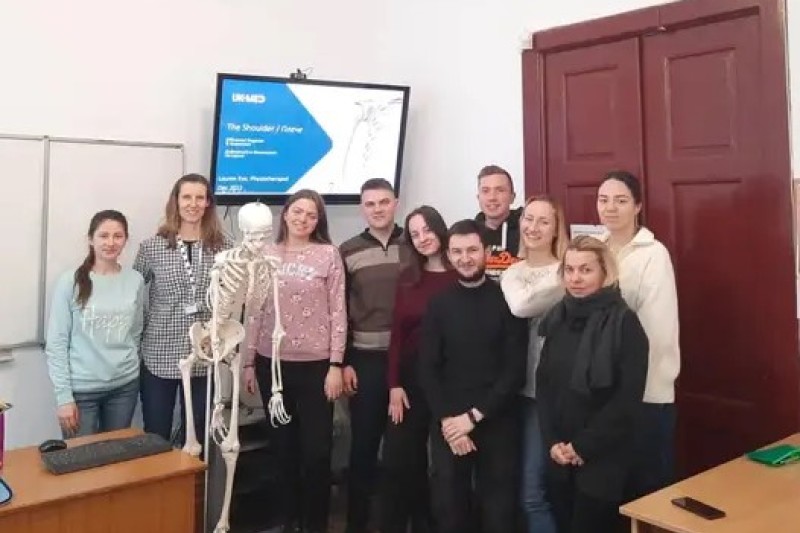 Lauren and her physio students in Ukraine