A community front room mental health centre specifically for students has opened on Bournemouth University's (BU) Talbot Campus.
The University Retreat is a bespoke mental health space for students from BU, Arts University Bournemouth (AUB) and AECC University College to use whenever they need support. It is a safe and welcoming space for any student struggling with mental health and potentially approaching crisis point.
The service will be operated by BCHA, alongside volunteers, who will provide peer support and mental health professionals to offer mixture of one-to-one and crisis support, alongside a range of activities in a shared space that can be used whenever students need a quiet place and the promotion of self-management of mental health. NHS Dorset has provided funding for the vital service, in support of student mental health.
The University Retreat was officially opened at a launch event, with the space on show to staff from all four organisations as well as NHS colleagues, with the Vice-Chancellors and key stakeholders invited to reflect on the important role the facility will play alongside the range of wellbeing services offered by universities in the region.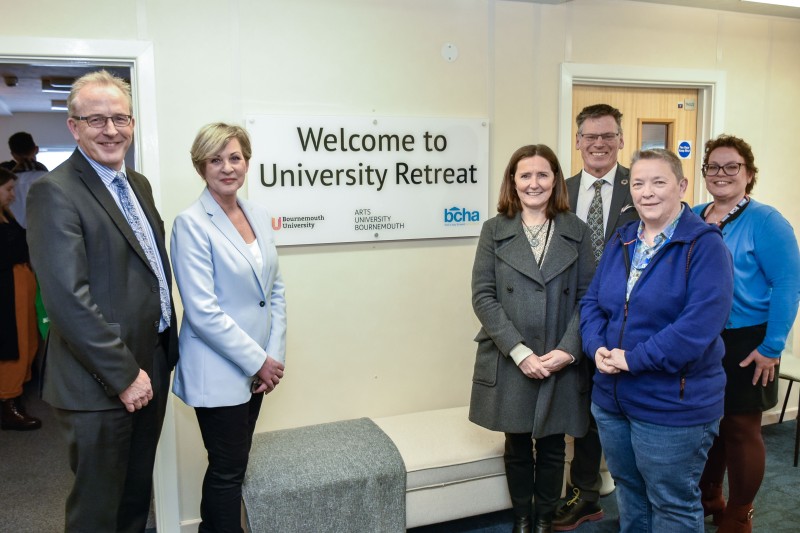 Staff from BU, AUB, NHS Dorset and BCHA at the launch event
Kerry-Ann Randle, Head of Student Support and Wellbeing at Bournemouth University, said, "We want to do all we can to help students to thrive while they are with us, and that includes promoting positive mental health, and helping to support students' mental health, especially when they experience difficulty or feel like they are approaching crisis. This vital service will support our existing services to provide a real mechanism for students to look after their own mental health and access the support of professionals when needed. I am delighted to be able to offer this service to all students at BU and it is wonderful to have our own Universities Retreat on campus for students to be welcomed to."
Heidi Cooper-Hind, Director of Student Experience and Employability at AUB, said, "The University Retreat will build on AUB's existing support services and will become an invaluable asset to Bournemouth's students, many of whom experience mental ill health and seek help and guidance for mental health support. 
"Setting up this vital community service in partnership with Bournemouth University, NHS and BCHA further underlines our commitment to promoting positive mental health; working together to build strong mental health support provision for our students, both on campus and across the local community."
Nicola Greenfield, Head of Homelessness, Health & Wellbeing said, "BCHA are delighted to extend our existing provision of Community Front Rooms, with the offer of mental health support to students at Bournemouth University. It has been fantastic to work closely with both Dorset NHS and the University staff and students in the innovative design and development of this much needed service."
Elaine Hurll, Principal Programme Lead for Mental Health at NHS Dorset said, "It has been a pleasure to develop this with colleagues at Bournemouth University and Arts University Bournemouth and other colleagues in Dorset HealthCare and Dorset Mental Health Forum and Bournemouth Churches Housing Association to add this service into the Access Mental Health range of services. It's going to be brilliant to have a supportive and calming space that students can come into in distress, and leave calmer and with more hope."
Community front rooms are also in operation in Wareham, Weymouth, Bridport and Shaftesbury, alongside the main centres in Bournemouth and Dorchester, serving the wider community and offering an open environment for mental health support.
The University Retreat on BU's Talbot Campus is housed in Tolpuddle Annex 2, and is open to any university student from 2pm-9pm Monday-Saturday. The scheme will initially run until 2024.
More information about The University Retreat can be found on the BU website.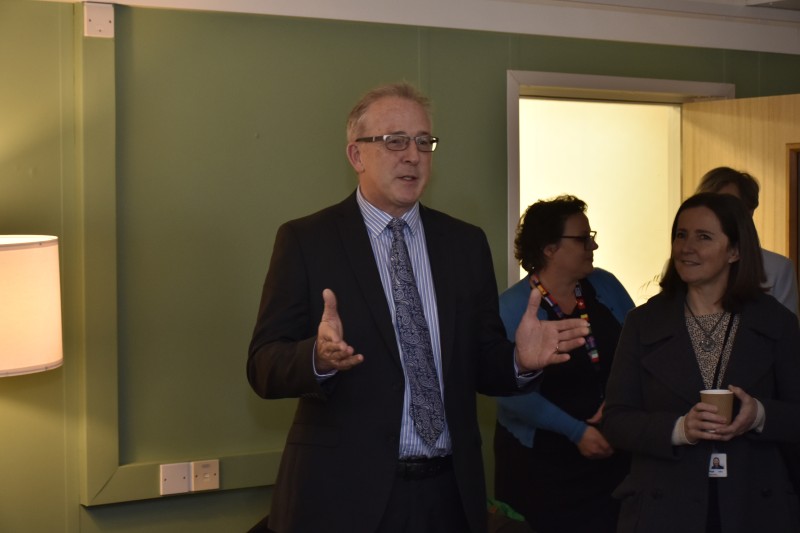 Professor John Vinney at the opening of the University Retreat