Events held at Bournemouth University (BU) to mark International Women's Day showcased how the university's research and education is helping make the world fairer and more equitable – as well as providing new opportunities for women to break into under-represented industries.
BU's Faculty of Media and Communication hosted an Inspiring Voices event, featuring women and allies from across the Faculty sharing stories about their work and experiences and what they are doing to make the world a fairer and more equitable space.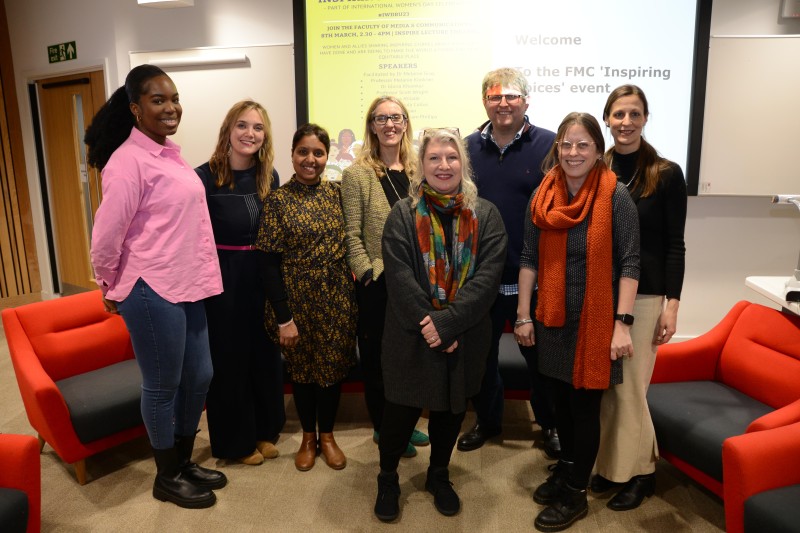 The speakers at the Inspiring Voices event
The event was organised and hosted by Dr Melanie Gray, Deputy Dean for Education and Professional Practice for the Faculty. Speakers included Professor of International Law Melanie Klinkner, who spoke about the 'forgotten women' around the world, who are often left out of statistics around missing persons' cases, and her work to ensure the human rights of all people are protected and enshrined in law.
Dr Gloria Khamkar, Senior Lecturer in Journalism, shared her story of navigating the caste system in her home country of India and becoming a successful broadcast journalist, drawing on the importance of having a support structure through both her father and husband while overcoming challenges.
Deputy Dean for Research and Professional Practice, Professor Scott Wright, talked about the role men can play as allies in supporting female colleagues as well as his own research into issues like toxic masculinity and online misogyny.
BA (Hons) Communication and Media student Tolowa Atolade shared insights from her experiences as the SUBU Vice President of Welfare and Community – making history as the first all-female, all-black executive team at SUBU. She spoke of the need for women to support each other and lift each other up, as well as her work developing the SUBU Allyship Hub.
Senior Lecturer in Computer Animation Susan Sloan shared details of a project that she is working on, using animation and creative approaches to reduce the high mortality rate from breast cancer for woman in Ghana, and Professor in Computer Animation Paula Callus spoke about her career journey to date, bringing together disciplines including animation, anthropology and art to tell the stories of those who can be under-represented.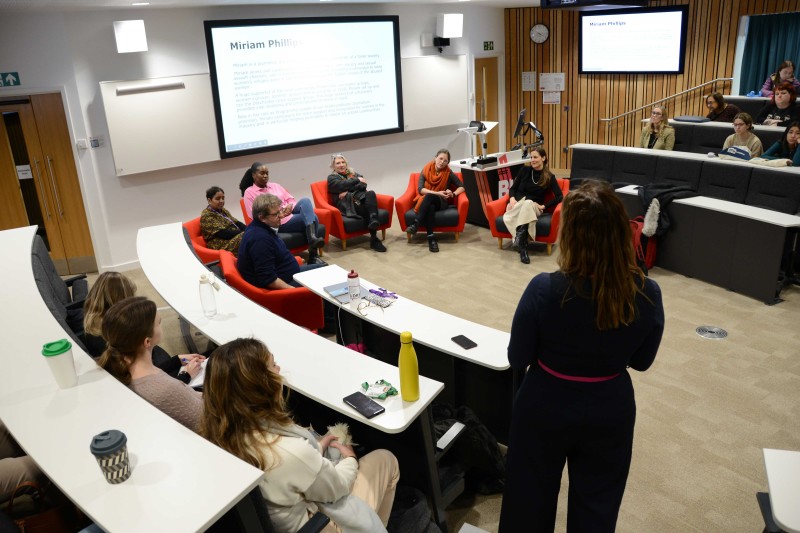 The panel discussion as part of the Inspiring Voices event
The event ended with a panel discussion, chaired by Senior Lecturer in Journalism, English and Communication Miriam Phillips, which touched on the theme of 2023 International Women's Day theme of #EmbracingEquity.
When asked how the world could become a fairer and more equitable space, the panels discussed ideas such as positive discrimination, and the need to recognise and discuss biases to then be able to overcome then. 
International Women's Day also marked the launch of BU's Women in Sports Journalism student and academic network. Students and staff came together over breakfast to launch the network and forum for women wanting to make a career in Sports Journalism – a field in which women are currently under-represented.
Pupils from local schools also joined BU to learn more about sports journalism as a career option and what BU is doing to encourage greater female representation. They took part in workshops led by existing female sports journalism students, including the opportunity to visit the broadcast facilities and have a go at presenting their own news bulletins.