BU's emeritus Professor Nigel Jump comments on the March 2023 budget
Worst fears about a UK recession this winter have receded.  The economy seems to have bounced along at a fairly flat overall pace: typically, one month down and one month up.  For example, UK real GDP was -0.5% lower in December but +0.3% higher in January.  Similarly, the SW regional PMI signalled contraction in January (47.0) but expansion in February (52.5).
As a result, many forecasters have revised their predictions upwards, albeit with an outlook shifting only from 'dire' to 'weak'.  As the table shows, the OBR has set out a slightly better but still fragile picture, for and from, the latest Budget.
UK Central Economic Forecasts (OBR 2023)
The OBR forecasts show some improvement from November, but still presage a modest economic performance, especially compared with some of our main competitors and against much of our previous history.  They suggest continuing 'stagflation' for now, but with a turning point this year, especially on inflation.  Growth remains very modest.  The labour market loosens a little, whilst the external and public deficits remain huge (see table) into the medium term.  The UK economy lacks resilience, characterised by underlying low productivity growth (the OBR says it stays well under 2% per annum into the medium term).  The UK, struggling to pay its way in the world, remains vulnerable to external shocks.  
Against this background, the HM Treasury Budget announced measures, such as wider child-care support, larger tax-free pension allowances and new 3-year investment incentives, to encourage labour participation and increase growth potential.  It extended household help with energy bills for three months and posted means to encourage legal workforce migration and "going back-to-work" for young parents and early retirees.  There were fresh announcements on funding devolution for Greater Manchester and the West Midlands and more on investment zones (none yet in the south) for digital and tech, green industries, life sciences, advanced manufacturing and creative industries.  (It remains uncertain whether these will prove net beneficial or cause mere displacement for the "key" sectors and/or places.)  There were also important increases in defence spending and some reference to climate technology, including nuclear power.
UK growth is being held back by areas of supply-side industrial decline without items of clear replacement.  Global shocks from war and disease, poor governance and labour withdrawal remain important.  The key symptoms are low investment, constrained trade, and failing infrastructure.  Moreover, confidence remains vulnerable to, yet dependent on, higher interest rates to address important fundamentals. 
The ECB, still catching up somewhat, has just raised its deposit rate by 0.5%, to 3%.  Next week, the Bank of England may increase its bank rate from 4% and the Federal Reserve may push up its Fed Funds range from 4.25-4.75%.  The recent collapse of the Silicon Valley Bank and the threat to Credit Suisse remind us how delicate current financial and economic predicaments are in this 'stagflation' world (see 'misery' = inflation + unemployment chart).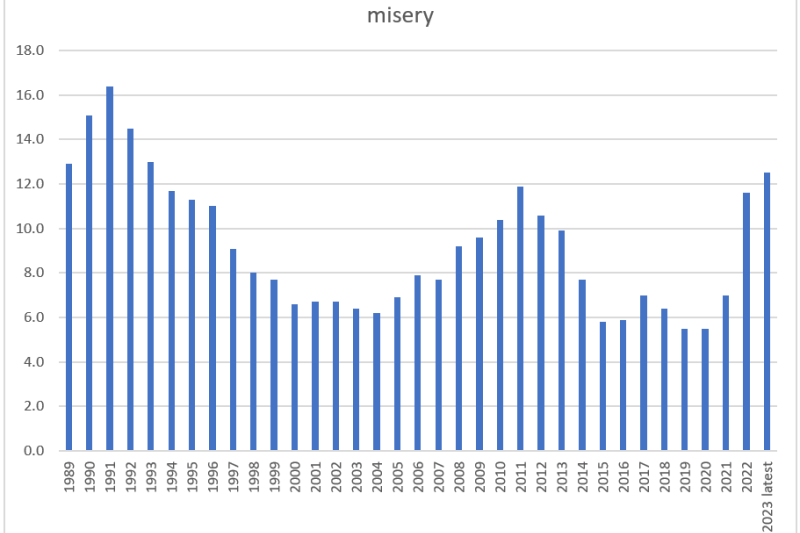 Since the turn of the year, economic tensions have eased somewhat, but risks are significant for energy prices, interest rates, growth prospects (real incomes, supply side investment and labour), and public debt and borrowing.  The 2023 Budget sets a reasonable tone on some development matters, but its impact will be unclear for some time.  Sadly, the only certainty is uncertainty.