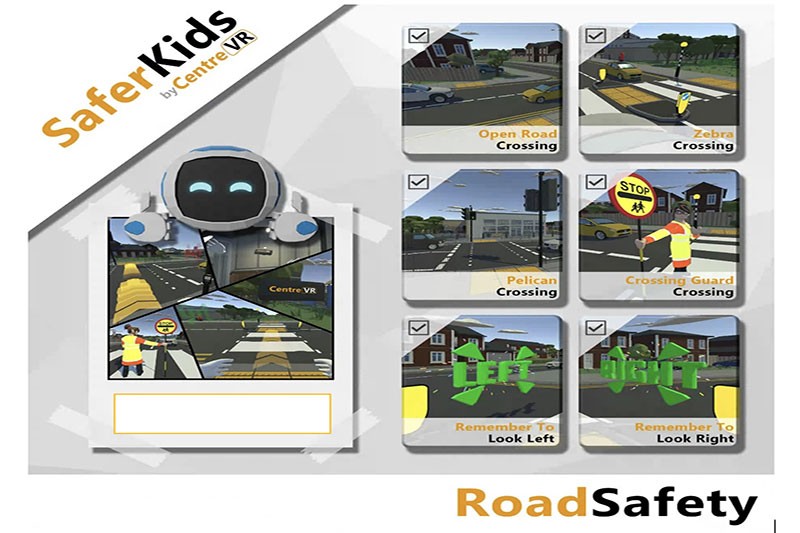 Staff and students from Bournemouth University's (BU) Departments of Psychology, Creative Technology, and Computing and Informatics, have collaborated with CentreVR on a project funded by Bournemouth, Christchurch & Poole (BCP) Council to develop a new Virtual Reality (VR) simulated game that teaches children road safety skills called 'SaferKids VR'. 
Using VR headsets children can be immersed into a 3-D simulated world that includes road crossings that have been designed to look realistic with shops, parked cars, and busy traffic passing by. The children explore the virtual environment with the goal to get to and from school safely while learning road safety skills.  
Dr Sarah Hodge from the Department of Psychology at BU led the project along with graduates from the Department of Creative Technology and Computing and Informatics who helped design and programme the software for the game. Dr Hodge said: "We wanted to develop a tool that enabled children to experience a virtual simulation of crossing the road that felt as close to the real-life experience as possible. VR gives us the opportunity to allow children to explore this in a safe and interactive environment. We developed a friendly companion in the form of a robot to help the children navigate through the simulation. The robot named SKIE (Safer Kids Interactive Expert) encourages them to try out the different crossings and gives them fun activities to do along the way." 
A team which consisted of BU graduates helped to design and programme the game to include different road crossing scenarios including crossing on zebra crossings, pelican crossings and open road crossings. Since graduating from his Masters degree in MSc Information Technology, Sam Walsh who led the team in the development of SaferKids VR game said: "Developing educational experiences in VR can be challenging. The VR world is constantly improving with new hardware and software being released at a rapid pace. Being able to be develop for this cutting-edge technology has been an incredible experience. The future of VR is ever changing, so keeping up to date with this new technology is fundamental to stay relevant and not be left behind. Working for Centre VR Production Studios I have been able utilize some of the core skills I learnt during my studies at Bournemouth University as well as expanding my skill set and in-depth working knowledge." 
Josh Maddocks the other BU graduate who was a part of the development team said: "Working for a small game studio has enabled me to develop new skills and expand on the knowledge I gained at BU. Working in a field like VR where things are constantly changing is a nice challenge. With technology improving at a rapid pace, there's a constant 'back and forth' to implement the latest programming. This of course means constantly learning new skills. The core skills you gain from university is vital in understanding the processes that you undertake in a professional environment." 
SaferKids VR is a part of Centre VR, who run VR centres across the UK offering simulation spaces and headsets that can accommodate up to 30 users at one time. Dr Hodge said: "This project was a brilliant opportunity to continue the ongoing partnership with the CentreVR and give back to the community. It's such a fantastic business to have on our doorstep for both research and education of all ages. Our students from across the university have also benefited from the centre by visiting and using the VR facilities."
There are plans to develop other VR simulations that can teach different skills such as, water, fire, and health safety.
Local schools can sign up to the SaferKids VR simulation by contacting CentreVR where they can book their sessions online at:  https://centrevr.co.uk/saferkidsvr/ 
For further information about the Psychology, Computing and Informatics, and Creative Technology courses available to study please visit the BU website.