The cricket season gets underway this weekend in England and Wales and one player excited about the months ahead is Bournemouth University graduate Brad Currie. The former sports scholar is celebrating signing a professional contract with Sussex County Cricket Club.
Bradley made his debut for the county side as a fast bowler on a short-term contract at the end of last season whilst still a final year student at BU. He made a very impressive debut, taking six wickets against Middlesex at Lords.
Since the end of the season, he has remained integrated in the squad. Whilst he carried on training with his teammates at Hove as much as he could, he has also continued his links to SportBU and has been training with the university's first team at BU's Chapel Gate facility over the winter.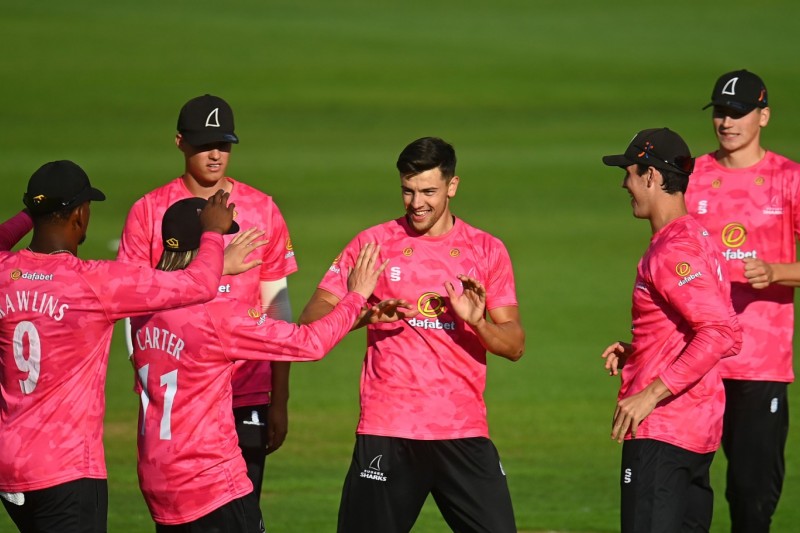 The hard work paid off when he received a call from the county side offering him a contract for the next season to play in all formats of cricket – the County Championship, the 50 over cup and the T20 Blast. 
"It was just awesome, but also a sense of relief after all the hard work and the decent start I had at the end of last season," explained Brad. "Those games left me hungry to kick on and get more experience at this level. To get the phone call basically saying I can live my dream now, was incredible. It was all the superlatives you can think of in abundance!"
Brad, who graduated in Sports Psychology last year, credits the support he got from SportBU through his scholarship and from the University coach Steve Wilson, as a major part of his success.
"It has massively helped get me where I am now," he said. "There are people whose job is to get you onto the pitch one hundred percent fit, and there are so many things that they take care of for you. I also got one to one time with Steve on all the technical aspects of the game. In addition, the university were very understanding when it got difficult to balance my studies with playing and SportBU were always supportive. I was so well looked after."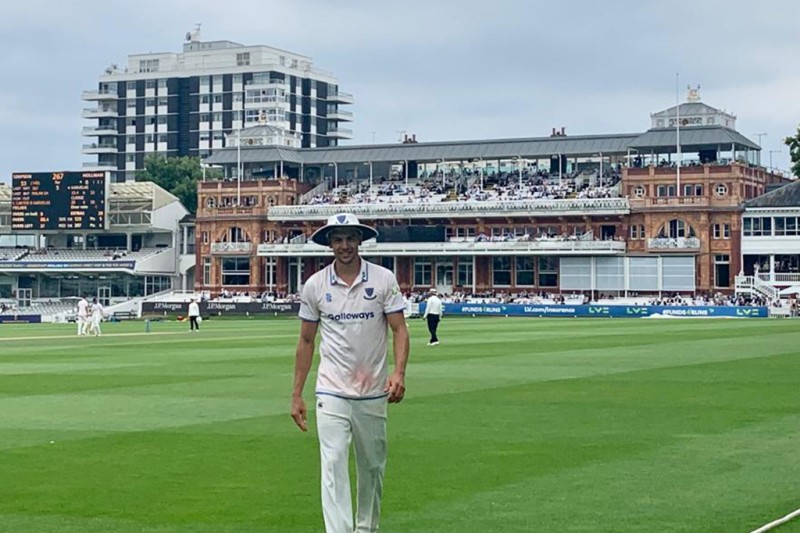 Brad made his debut for Sussex at Lords last season
Despite missing two seasons because of the COVID19 pandemic, Brad has fond memories of playing for the University as a student, which included helping Steve Wilson on the coaching side. "That was my way of giving something back to the university after all their support with the scholarship, but talking to others about their game also helped me think a bit more about mine."
Amongst the highlights of his time at university was the success the team enjoyed in indoor cricket.
"We got better, and progressed further each year, and it was great to be a part of that. My final year was the highlight of time playing at uni, we got through the regional qualifiers and made it to the national finals which were played at Edgbaston. It is amazing to think that six months later I was playing again at Edgbaston again for Sussex in the final of the Royal London Cup!"
In the coming years, Brad has ambitions to play international cricket for Scotland. "The long-term goal is to play in the World Cup for them – not just competing, but beating sides like England, India and Australia," he said.
In the meantime the focus on building his career in professional cricket, which gets underway this season at Sussex.
His final words come back to the help he got at BU.
"I just want to give a massive thank you to the University and Martin Wells and his team at SportBU who were so supportive, and for joining me on the journey that I am still on. I'm always keen to share success, I don't think it's just me – if I had not had that team around me, I would not be where I am," he concluded.