A collaboration between engineers from Bournemouth University and clinicians from University Hospitals Dorset has produced an innovative patented device, using a smartphone and a specially designed attachment, to evaluate loss of sensation in the hands and feet.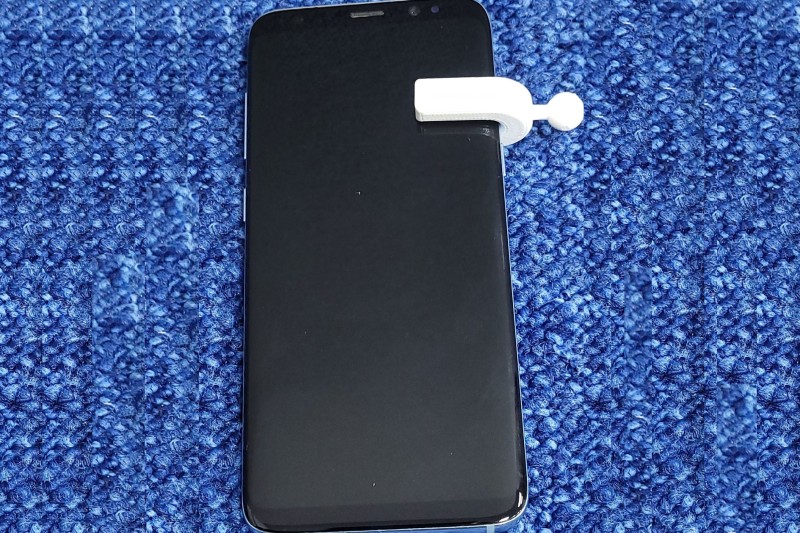 A smartphone with the NERVE device attached
This has multiple potential applications, from assessing fall risk in care homes to monitoring the side effects of chemotherapy. However, the team expect that it will likely have the greatest impact in monitoring the damage to the feet of people living with diabetes.
Diabetes is the one of the most common chronic conditions, affecting approximately 46,000 people in Dorset and approximately 4.7 million people in the UK.
There are two types of diabetes; type 1 diabetes is where the body's immune system attacks and destroys the cells that produce insulin. Type 2 diabetes is where the body does not produce enough insulin, or the body's cells do not react to insulin. It happens when the body is not able to control blood sugar as it should, which can cause damage to various body systems.
One potential complication related to diabetes is damage to the feet. Over time uncontrolled blood sugar can affect the function of nerves and blood vessels, and the ability to fight off infections. The loss of nerve function generally starts in the 'peripheries', like hands and feet, which are both full of nerves and furthest away from the central nervous system.
The National Institute of Clinical Excellence (NICE) recommend annual 'screening' of the feet of people living with diabetes to identify those who may be at a higher risk of problems. The screening checks involve examining the feet, measuring the 'pedal pulse' (to determine how well blood is flowing), asking about issues, and testing for reduced sensation.
The NERVE device offers a means of collecting the last two pieces of information, and combined with other technologies that have or are soon to be launched, could be used to conduct an integrated assessment. It is likely that these will continue to be performed by healthcare professionals initially, but by using the platform of a smartphone it is hoped patients will eventually be able to test themselves at home. Such 'self-management' has been shown to improve outcomes for patients with chronic conditions, including diabetes.
When patients do undergo screening, their nerve function is usually tested with a device called a 'monofilament' – a thin bit of metal that bends when a certain force is applied. This allows healthcare professionals to touch different areas of the feet with a consistent pressure, and ask whether you can feel it or not. This process takes time and while the pressure is consistent, the procedure may not be - which is important in a test assessing what you feel, especially when the 'stimulus' is either on (touching) or off (not). Using an established method known as 'Vibration Threshold Testing', the nerve device harnesses the vibration motor of mobile phone handsets to apply vibrations at different levels using the innovative attachment.
Having received £634,000 from the National Institute of Health and Care Research (NIHR) to improve and test their designs, the team are now inviting people living with diabetes in the Bournemouth, Christchurch and Poole area to be some of the first to try the device out by taking part in their research study.
The study is being run by University Hospitals Dorset at the new Dorset Clinical Research Centre at Royal Bournemouth Hospital.
If you are living with diabetes and over the age of 18 they would like to hear from you. You do not need to own a smartphone yourself, and may or may not have had problems with your feet in the past. The visit will last approximately an hour and the team will do their best to work around your schedule. You are welcome to bring someone with you to the visit, and if you are both happy with this, they can even try using the device on you.