The ground floor of Dorset House (DH) is undergoing a significant transformation aimed at enhancing the identity of our Business School and showcasing the many activities taking place within the walls.
The works in Dorset House, which began on Monday 24 April, will be completed by September, ready for the start of the new academic year. In the meantime, the Estates team has reminded us that all staff and students should only use the East Wing staircase (the right-hand staircase as you look at the building from the main thoroughfare).
Access to the middle entrance will be maintained for lift access only. Please only use the lift if you need to for accessibility reasons. The West Wing staircase is unavailable, meaning that you will not be able to use them to get in or out of the building unless in the event of a fire. There will be signage placed around and outside the building for the duration of the works.
One of the most significant changes we are making is the creation of a new entrance with improved signage that will greet you as you arrive at Dorset House. This new entrance will not only serve as a welcoming portal but also offer a clear and distinct identity for our Business School.
In addition, we are excited to add shared working spaces for Postgraduate Research (PGR) students and staff. These spaces are designed to encourage collaboration, promote knowledge sharing, and foster a sense of community among our Business School members. 
Please see the map below of the entrances to Dorset House.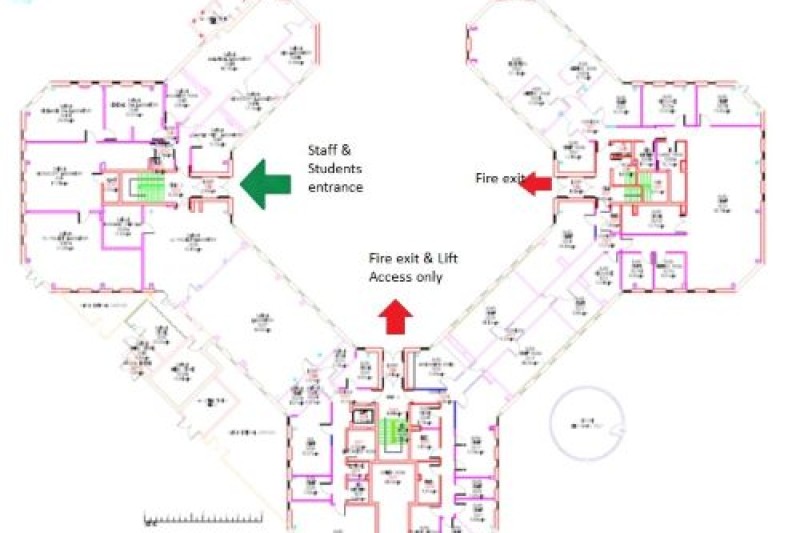 Thank you for your patience and understanding during this period of change, and we look forward to sharing the new and improved Dorset House soon. You can find more information about this and other parts of the Talbot Campus remodelling project on the BU website.