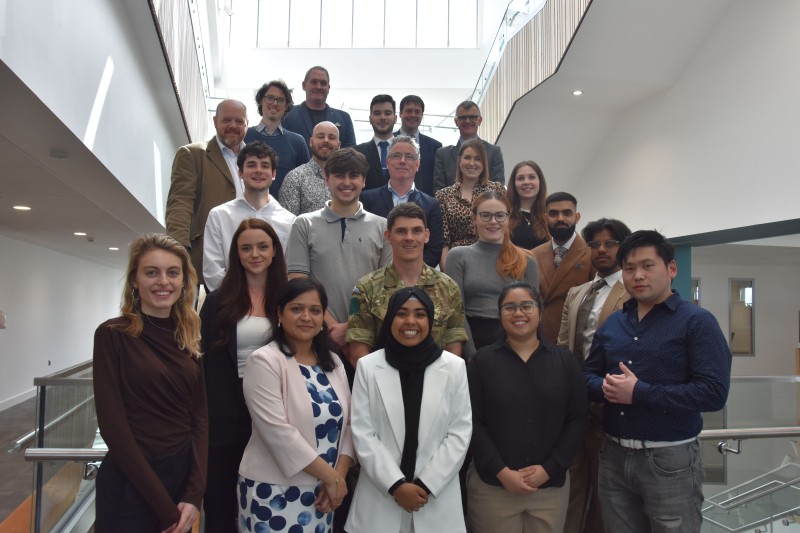 Solutions developed last year by BU students during the 'Hacking for Sustainability' (H4Sustainability) module have now been implemented by the Ministry of Defence (MoD).
A new cohort of students are now developing new solutions to help solve industry sustainability problems.
The H4Sustainability project is part of the 'Mission-Driven Entrepreneurship: Hacking for (H4)' series created by Common Mission Project (CMP); an educational charity that brings education for the leaders of tomorrow, to solve the critical problems of today.
This module is an opportunity for Business & Management students to develop industry experience and practical skills by working on real-world problems and coming up with solutions which have a significant and measurable impact. Last year, students worked on presenting solutions to issues surrounding national security, natural disasters, energy and the environment, which have now been implemented by the MoD. 
Lieutenant Colonel Laura Craig-Braddock, British Army, who was a problem sponsor for last year's problems, commented: 'The H4 problems are real-world problems, with sponsors that want and need a solution. For our problem we wanted to understand why young soldiers weren't taking up elective education. The team came up with three solutions that we've implemented.
'The students suggested that we look into a three-year roll over credit for Standard Learning Credits (SLC) funding, having squadron level educational representatives and implementing an interactive educational briefing video. Introducing these solutions will take time and we've raised that a review of SLC funding is needed.'
When asked about the impact of the student's suggested solutions, Laura added: 'It gave us a fresh, impartial perspective and resource that we didn't have internally. The team worked really hard and interviewed over thirty key stakeholders during the process. The answers that they came up with weren't new to us, but it was incredible to see it presented with specific evidence that we could utilise.'
Following the success of last year's 'H4Sustainability' module, the Ministry of Defence presented BU Business & Management students with three new sustainability problems to solve for 2023 around decarbonisation and biodiversity. Some of the 2022 cohort have returned this year as peer mentors to help the 2023 cohort develop their solutions.
Unit Leader for the H4Sustainability module, Dr Mili Shrivastava said: ​`Over twelve-weeks, using lean start-up methodology, students have devised recommendations for their problem sponsors. The essence of the course is to challenge thinking and provide fresh perspectives. We are proud to have equipped students to work in a fast-paced, real-world setting, with mission-driven organisations such as MoD.'
James Mclean, Net Zero Acquisition (Defence Equipment & Support) commented: 'The group delivered some recommendations which have informed further investigation and engagement opportunities for my team.'
Paul Watts, Infrastructure (Finance and Military Capability) said: 'I am so impressed with how the team developed in such a short time. Not only have they improved their knowledge base of sustainability and become proficient at delivering the message succinctly, they have helped validate and progress our thinking.'
Mick Brown, problem sponsor added: 'The team demonstrated a professional approach, quickly built their understanding of the complexities of the Ministry of Defence, and have made very well-founded observations and recommendations.'