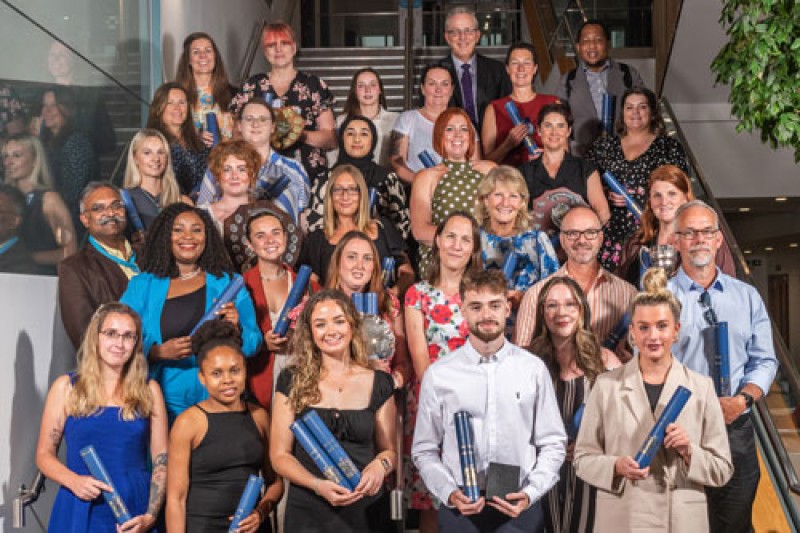 Final year students were recognised for their achievements at the annual Faculty of Health & Social Sciences awards ceremony on Wednesday 28th June 2023. The awards given out commended the hard work of students from the health and social science courses at Bournemouth University.
Tom Belfield, studying BSc (Hons) Physiotherapy explained what it means to be recognised for the Sue Sutherland Prize, which is awarded for overcoming adversity or challenging circumstances to become an excellent practitioner:
"I could not have asked for a better place to do my degree and feel eternally grateful for the opportunity that this university has given me. Getting through my final year was not easy, as all students come to find, but from the support of my loved ones and the University themselves, it spurred me on and supplied the fortitude that I needed to complete my degree."
Faiza Tabassum, studying BA (Hons) Sociology had this to say about winning The Department of Social Sciences and Social Work Award:
"I am extremely grateful to receive this award from the University. I appreciate that my hard work has been recognised. Thank you to all the lecturers for your support over the years – I would not be able to achieve this award without you!"
Cara Ginnifer, studying BSc (Hons) Operating Department Practice (ODP) received The Department of Midwifery and Health Sciences Award:
"I enjoy being an ODP and I'm passionate about the course. Whilst at University, my personal circumstances meant that there were occasions that I didn't think I would complete the course. It was such a shock to be nominated let alone to win the award. I was completely blown away! I'm proud that even when faced with adversity I've achieved something special whilst still being an advocate for BU and the ODP course."
Henry Smith, studying BSc (Hons) Adult Nursing describes how it feels to win The Department of Nursing Science Award:
"I feel extremely privileged to be a winner of The Department of Nursing Science Award. To have been recognised and nominated to receive this award makes me feel extremely proud of what I have achieved over the last 3 years. As a mature student and coming from a previous full-time career, embarking on a nursing career was an enormous change for me, but the course has enabled me to enhance previous skills and develop amazing new ones. It has been challenging, particularly during the peak of the pandemic, but these challenges made me more determined to succeed. Good time management, determination and reading (lots of reading!) kept me on track! Also, my fellow students, placement assessors, course lecturers and, of course, my patients kept me motivated and I would like to thank everyone for their support."
The awards ceremony was hosted by Executive Dean Professor Anand Pandyan, Professor John Vinney and Dr Catherine Angell.
Executive Dean Professor Anand Pandyan said: "It's been amazing to watch all of our students learn and grow during their time at BU and being a part of the awards ceremony felt very special, as all of the students have worked extremely hard to achieve their awards."
Full list of the winners:
The Dorset Council Award (BA Social Work): Lauren Madden
The Dorset Council Award (MA Social Work): Kathy Brennan
The Rodger White Prize - BA (Hons) Social Work: Jasmine Thomson
The Rodger White Prize - MA Social Work: Gemma Earley
The Dorset Healthcare University NHS Foundation Trust Award: Lindsay Warken
University Hospitals Dorset Outstanding Student Nurse Award: Zoe Godber-Ford
The Sarah Cheesman Compassionate Care Prize: Katie Butler
Prudence Donaldson Wright Memorial Prize: Katherine Jones
SWASFT: Alexander Hunter
Sue Sutherland Prize: Thomas Belfield
Lesley Milne Midwifery Prize: Alicia Pressley
Phi Mu Chapter (Honour Society for Nurses) joint award: Laura Lock
Phi Mu Chapter (Honour Society for Nurses) joint award: Niasha Lynch
SUBU Award: Sherrie Hale and Sam Pattison
Dean's Prize: Jessica Clarke and Emily Fisher
The Department of Medical Science and Public Health Award: Musa Nhlabatsi
The Department of Midwifery and Health Sciences Award: Cara Ginnifer and Jo Costello
The Department of Nursing Science Award: Henry Smith
The Department of Rehabilitation and Sport Sciences Award: Lizzie Rhodes
The Department of Social Sciences and Social Work Award: Faiza Tabassum
Lewis Manning Scholarships in Palliative and End of Life Care - funded by the Burdett Trust for Nursing: Tyler Trifari, Maria-Gorati Okeke, Grace Lawrence, Katie Butler and Millie Gray
Anneyce Knight Enhancing Nursing Practice Award: Cheryl Clarke
The Colin Pritchard Award for Outstanding Commitment to Becoming a Social Worker: Ellie Campbell
Mandy O'Shea Award for Excellence in Family and Carer Involvement: Ropafadzo Chimbase, Philippa Falkner-Lee and Georgina Novell
The HSS Long Placement Prize: Lizzie Rhodes