In July, Martyna Ivanauskaite, Student Research Assistant, Maxim Jennings, Multimedia Journalism student and BU professors Karen Fowler-Watt, Roman Gerodimos, and Julian McDougall attended the 15th Salzburg Academy on Media and Global Change programme. 
The programme provides global networking opportunities, encouraging collaborative innovation with people from different backgrounds. Students from Lebanon, South Korea, Hong Kong, USA, UK, India, Argentina, Austria, and Japan participated in the programme.
Through interactive seminars, Associate Professor Fowler-Watt shared a new approach, "story listening" as a methodology for peacebuilding. Professor Gerodimos highlighted the "superpower of shame awareness", a radical approach to building equitable, inclusive, and emotionally resilient communities, and Professor McDougall shed light on the question, "What do we mean when we talk about change?"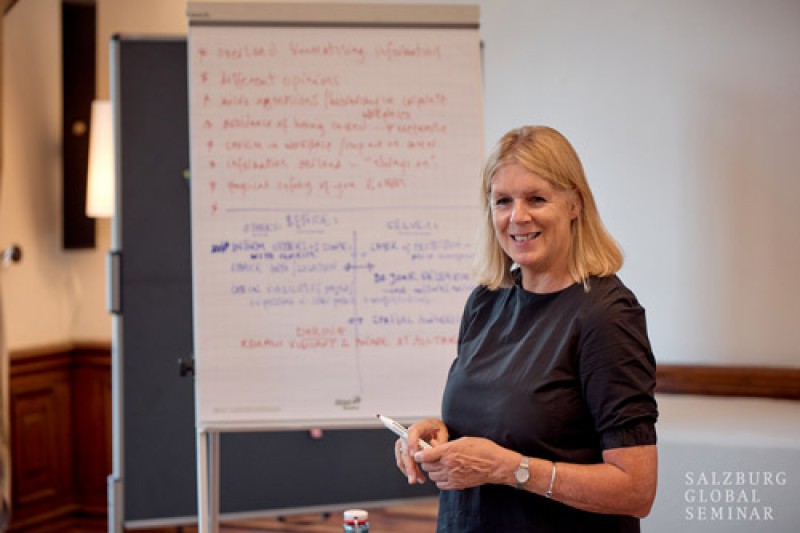 Associate Professor Karen Fowler-Watt hosting an interactive workshop
Professor Gerodimos commented on the value of the programme for faculty and students: "The programme provides us with an opportunity to explore, experiment, collaborate, develop, and challenge ideas. Attending the academy is the highlight of my year and provides a unique collaborative opportunity for our faculty."
Over the course of the programme, participants engaged in a range of activities, including interactive lectures and hands-on workshops, film screenings, a living library, art and cultural experiences, tours of Salzburg and Gosau, and a visit to the Mauthausen Memorial.
Martyna Ivanauskaite said the academy "was a great opportunity to come to a different country to meet so many people from all around the world…The experience was great. I really enjoyed all the lectures and learning about other cultures and media around the world."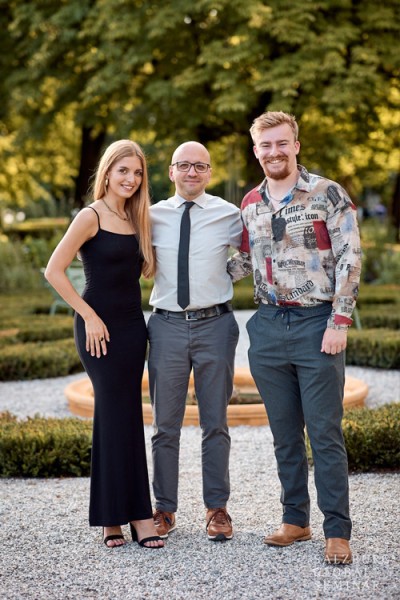 Martyna Ivanauskaite and Maxim Jennings with Professor Roman Gerodimos
Maxim Jennings said: "We all need an equal say in the change we want to occur. Through listening to the stories of so many passionate and talented individuals, some old, some young, my grasp of change and the diverse ways we can enact it has been liberated."
This year's theme was Imagining Inclusive and Equitable Futures. Participants were challenged to imagine media practices and education that seek to advance meaningful human connection and alliance in our overwhelmingly digital culture.
On their final day, attendees presented their group projects. Martyna's group presented their project 'NewsARound', discussing the power of artificial intelligence (AI) to deliver news through a combination of wearable augmented reality (AR) technology and mobile holographic screens.
Maxim's group presented their project 'Tense+', discussing shared experiences from the past, present, and future through a new form of storytelling that allows people to visually share memories with others.
Professors Fowler-Watt and Gerodimos facilitated the group projects. Professor Gerodimos also produced a short film titled 'Fellows Hall' with students during the academy. 
Throughout the programme, attendees worked in groups to develop multimedia initiatives of the future that nurture human engagement, inclusion, and respect for others.
Find out more about the Salzburg Academy on Media & Global Change
Find out more about BU's Faculty of Media & Communication