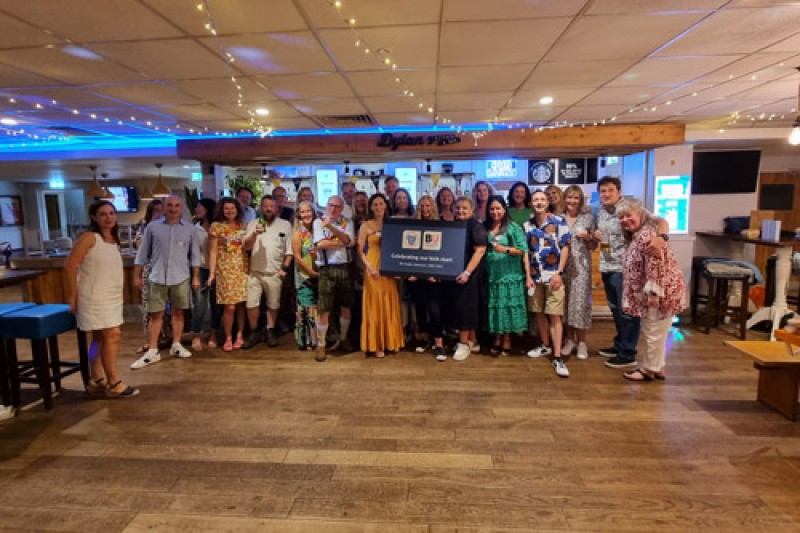 The first-ever cohort of Public Relations graduates got together for a reunion at Dylan's bar on Saturday 9 September 2023.
The reunion marked 30 years since the former classmates graduated from BA (Hons) Public Relations (BAPR) in 1993; the first time the degree had been offered anywhere in the UK. Having enrolled at Dorset Institute of Higher Education in 1989, the students experienced rapid changes in the HE landscape during their four-year course – briefly becoming students of Bournemouth Polytechnic before graduating from Bournemouth University in 1993.
Geraldine Mapp (nee Dunne)
Some travelled from across Europe to attend the reunion at Talbot Campus. Geraldine Mapp (nee Dunne) instigated and organised the event, with planning starting in January 2023. Past lecturers were also interviewed to share their memories and insights.
Since graduating the alumni have gone on to achieve success across the PR industry and beyond, securing senior roles with organisations including Coca Cola, Royal Navy, Shell, National Grid and Samsung. Many have established their own award-winning agencies. Collective career highlights have included working in the press office at the time of Queen Elizabeth II's funeral, providing voice over recordings for Land Rover commercials, supporting political leaders including Barack Obama and Tony Blair, appearing in the Top 10 eligible CEO's in Esquire South Africa, and working for celebrity clients.
Those who attended the reunion commented on the warmth in the room and feeling a sense of coming home. On his experience of studying at BU, alumnus Simon Craddock said: "It was a safe space in which to grow up and the career door it opened has taken me all over the world."
Becky Wimpress says of the reunion: "The warmth and strength and resilience in that room was uplifting – what an amazing bunch of beautiful people inside and out. We were a guinea pig year that helped shaped the future of the BAPR degree."
Liz Lean, founder of Liz Lean PR (LLPR), says: "To celebrate 30 years of this awesome course in the same year as the 25th anniversary of LLPR – which has employed many BAPR and BU Communications graduates over the years – was really quite special. Reconnecting with everyone all these years later turned out to be a reassuring experience that we were all definitely in the right place at the right time back in October 1989!"