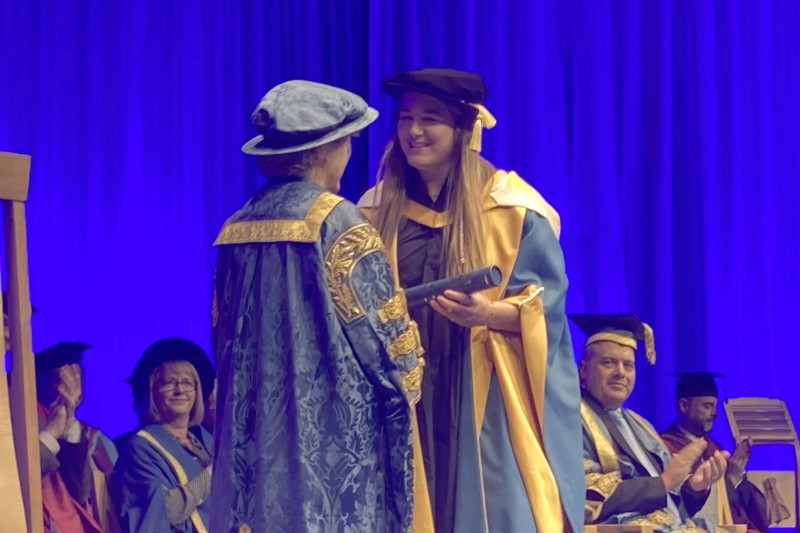 England and Saracens Rugby Union player Poppy Cleall has been awarded an Honorary Doctorate by Bournemouth University. The award is in recognition of her achievements in international and domestic rugby and her work to promote gender equality in sport.
Poppy has played 64 times for England, picking up two silver medals at successive World Cups. She is also the English Premiership's all-time leading try-scorer and has won four Premiership titles with Saracens.
She grew up in Dorset and played for local rugby clubs Ellingham & Ringwood and Wimborne before progressing to Bristol Ladies. In 2017 she was part of the first women's rugby squad to gain professional status ahead of the World Cup.
An active campaigner for gender diversity in sport, Poppy has launched the Women's Rugby Agency to co-ordinate coaching sessions and player appearances for schools and charities. Having grown up with a lack of visible female role models, she hopes the agency's work can inspire more young girls into the sport. 
Talking about how it felt to receive the award, Poppy said, "It was pretty surreal - I didn't think I would be getting a letter like that. I'm honoured to have had my career, and now to be here in Bournemouth, where I started playing rugby just down the road, coming back here full circle in the journey is an amazing honour.
"When I left university, it was unheard of to be a professional women's rugby player and it was really hard to juggle your profession career and what was essentially your hobby. But now there is a shift in dynamic in society where women's sport is accepted and celebrated, with the whole nation getting behind it and seeing its value and it is amazing to be part of it."
On setting up the Women's Rugby Agency, she said, "It was a memory from my childhood, England Red Rose came down to my rugby club and really inspired me and I just needed to give that back to somebody else. So I founded the Women's Rugby Agency for inspiring the next generation of boys and girls. We've been going to hundreds of schools and charity events and hopefully giving them that chance that I had growing up."
Professor John Vinney, Vice-Chancellor of Bournemouth University said, "One of our aims as an institution is to challenge marginalisation and under representation and Poppy is a fantastic ambassador for this. We are proud of the sporting opportunities and facilities we offer to our students, staff and the wider community, including hosting Bournemouth Rugby Club at our Chapel Gate site. For all these reasons, I am sure Poppy will feel very much at home in our BU community."
When asked about her advice to those graduating alongside her, Poppy added, "This is the start of your journey. Be excited, be bold in your dreams and make sure that you remember what you are passionate about. It's not always going to be easy and there's going to be challenges and set-backs but just remember your why and keep going."
Poppy received her honorary Doctor of Arts degree at the university's graduation ceremony at the Bournemouth International Centre on Wednesday 8 November.